Summer Reading Grades 4 to 6
Summer is almost upon us and it is so important to keep children reading all through the summer months to prevent learning loss.  Here is a really fun list of books for grade 4 to 6 students that will keep them reading all summer long!  Look for them at your public library or favourite book store.
The Language of Ghosts by Heather Fawcett
The Penderwicks meets Howl's Moving Castle in this thrilling middle grade fantasy adventure about a trio of royal siblings who unlock a long-forgotten magical language in their bid to reclaim their stolen throne—from Ember and the Ice Dragons author Heather Fawcett. Perfect for fans of Kelly Barnhill and Robert Beatty.
The Rema Chronicles by Amy Kim Kibuishi
Enter the rich and fantastical world of Rema in the first installment of this middle-grade graphic novel series with sweeping adventure and light romance!  Tabby Simon is determined to learn what happened to her father, who was found dead after researching a tree that leaks a mysterious mist in her neighborhood. She is unexpectedly led to Rema, a distant world of magic and beauty that is periodically invaded by a nearby planet desperate for resources. While Tabby searches for the truth surrounding her father's death, she meets a handsome blue-haired boy named Philip. He has his own dangerous secrets, but has promised to help Tabby get home. As she learns more about this strange world, Tabby discovers that she is destined for something far greater than she ever could have imagined.
Spy School by Stuart Gibbs
Can an undercover nerd become a superstar secret agent? The first book in Stuart Gibbs's New York Times bestselling Spy School series is now a graphic novel!
Ben Ripley may only be in middle school, but he's already pegged his dream job: CIA or bust. Unfortunately for him, his personality doesn't exactly scream "secret agent." In fact, Ben is so awkward, he can barely get to school and back without a mishap. Because of his innate nerdiness, Ben is not surprised when he is recruited for a magnet school with a focus on science—but he's entirely shocked to discover that the school is actually a front for a junior CIA academy. Could the CIA really want him?
The Aquanaut by Dan Santat
Dive in to this whimsically adventurous graphic novel from Caldecott Medalist Dan Santat!
Ever since her father was lost at sea, Sophia has been moping around Aqualand, the marine theme park her dad and uncle created. But Sophia's world is turned upside down when an "aquanaut" breaks into the park's research lab.
To her amazement, Sophia discovers that the aquanaut is not what it seems — inside lives a band of four goofy sea creatures! And when they all realize that Aqualand has evolved into something much darker than Sophia's dad had envisioned, Sophia is determined to help the aquanaut crew free the park's captive marine life before it's too late.
New From Here by Kelly Yang
From the New York Times bestselling author of Front Desk comes a poignant middle grade novel about courage, hope, and resilience as an Asian American boy fights to keep his family together and stand up to racism during the initial outbreak of the coronavirus.
Lightfall by Tim Probert
For fans of Amulet and middle grade readers who love sweeping worlds like Star Wars, the first book of the Lightfall series introduces Bea and Cad, two unlikely friends who get swept up in an epic quest to save their world from falling into eternal darkness.
A Wolf Called Wander by Rosanne Parry
This gripping novel about survival and family is based on the real story of one wolf's incredible journey to find a safe place to call home. Illustrated throughout, this irresistible tale by award-winning author Rosanne Parry is for fans of Sara Pennypacker's Pax and Katherine Applegate's The One and Only Ivan.
Zachary and the Dragon Emperor Ying by Ziran Jay Zhao
Percy Jackson meets Tristan Strong in this hilarious, action-packed middle grade contemporary fantasy that follows a young boy as he journeys across China to seal the underworld shut and save the mortal realm.
City Spies by James Ponti
Sara Martinez is a hacker. She recently broke into the New York City foster care system to expose her foster parents as cheats and lawbreakers. However, instead of being hailed as a hero, Sara finds herself facing years in a juvenile detention facility and banned from using computers for the same stretch of time. Enter Mother, a British spy who not only gets Sara released from jail but also offers her a chance to make a home for herself within a secret MI6 agency.
Into the Heartlands by Roseanne A. Brown
Twelve-year-old Shuri is a lot of things. Scientist. Princess. All around cooler person than her pain-in-the-butt big brother, T'Challa. Shuri knows she could do so much more to help Wakanda, but everyone is obsessed with the prince because he's the next Black Panther. That is, until Soul Washing Day, one of the most important rituals of Wakandan society.When an argument between T'Challa and Shuri leads to one of Shuri's inventions accidentally destroying the sacred ceremony site, chaos reigns instead of prosperity. Suddenly the people of Wakanda, including her mother the queen, are becoming sick! Could this be a curse from the ancestors?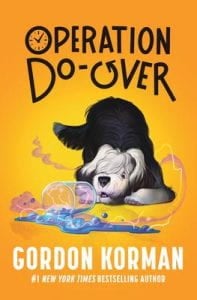 Operation Do-Over by Gordon Korman
Mason and Ty have been best friends since they were old enough to form thoughts. But one day an atomic warhead walks into their seventh-grade classroom ready to annihilate their friendship: Ava Petrakis, the new transfer student from New York.  Mason finds himself competing against his best friend for the first time in his life, and it's not pretty. So they make a pact: a non-Ava treaty. If it worked for the Romulans and the Klingons, it has to work for them. At least that's what Mason thought until he realized Ava might actually like him back. Before he realizes it, he's kissing Ava beside the wrecked Tilt-a-Whirl sign in the middle of a freak storm, and his friendship with Ty is obliterated.  Five years later, Mason's life is a mess. He has no friends, no girlfriend, his dog has been hit by a Roto-Rooter truck, his parents are divorced and he has just been expelled from school in his senior year. Everything has gone wrong and he can trace all of it back to that one day by the Tilt-a-Whirl sign. If he could go back he would do everything differently. That's exactly what he's thinking when his Volkswagen crashes into a furniture van. When he wakes up, he's 12 years old again. This is his chance for a do-over. Will Mason be able to fix everything, or are some things just a matter of fate?
The Witch Boy by Molly Knox Ostertag
In thirteen-year-old Aster's family, all the girls are raised to be witches, while boys grow up to be shapeshifters. Anyone who dares cross those lines is exiled. Unfortunately for Aster, he still hasn't shifted . . . and he's still fascinated by witchery, no matter how forbidden it might be.When a mysterious danger threatens the other boys, Aster knows he can help — as a witch. It will take the encouragement of a new friend, the non-magical and non-conforming Charlie, to convince Aster to try practicing his skills. And it will require even more courage to save his family . . . and be truly himself.
A Whale of the Wild by Rosanne Parry
In the stand-alone companion to the New York Times–bestselling A Wolf Called Wander, a young orca whale must lead her brother on a tumultuous journey to be reunited with their pod. This gorgeously illustrated animal adventure novel explores family bonds, survival, global warming, and a changing seascape. Includes information about orcas and their habitats.
Other Words for Home by Jasmine Warga
Jude never thought she'd be leaving her beloved older brother and father behind, all the way across the ocean in Syria. But when things in her hometown start becoming volatile, Jude and her mother are sent to live in Cincinnati with relatives.At first, everything in America seems too fast and too loud. The American movies that Jude has always loved haven't quite prepared her for starting school in the US—and her new label of "Middle Eastern," an identity she's never known before.But this life also brings unexpected surprises—there are new friends, a whole new family, and a school musical that Jude might just try out for. Maybe America, too, is a place where Jude can be seen as she really is.
A Tale of Magic… by Chris Colfer
This #1 New York Times bestseller is the first book in a new series set in Chris Colfer's Land of Stories universe, perfect for both new and longtime fans!
Bloom by Kenneth Oppel
It was just rain.
But after the downpour, odd black plants begin to shoot up.
Suddenly—
They. Are. Everywhere.
They take over fields and twine around houses. They bloom and throw off toxic pollen—and feed.
Strangely, Anaya, Petra and Seth, three Salt Spring Island teens, seem immune. What's their connection? What's their secret? A week ago, they wouldn't have thought they had one.
But they'd better figure it out fast—the invasion has already begun.
The Woman in the Woods by Kate Ashwin
Loup Garrou, trickster rabbits, and spirits with names that can't be spoken — the plains and forests of North America are alive with characters like these, all waiting to meet you in this collection of folklore retold in comics!
This fifth volume of the "Cautionary Fables and Fairytales" anthology series features updated takes on ancient stories from tribes spanning the continent, bursting with bedside tales that are thrilling, chilling, and most of all inspiring. Featuring the work of JORDAAN ARLEDGE, MAIJA AMBROSE PLAMONDON, MILO APPLEJOHN, and more!
The Mysterious Disappearance of Aidan S. (as told to his brother) by David Levithan
Aidan disappeared for six days. Six agonizing days of searches and police and questions and constant vigils. Then, just as suddenly as he vanished, Aidan reappears. Where has he been? The story he tells is simply. . . impossible. But it's the story Aidan is sticking to.
Greenglass House by Kate Milford
It's wintertime at Greenglass House. The creaky smuggler's inn is always quiet during this season, and twelve-year-old Milo, the innkeepers' adopted son, plans to spend his holidays relaxing. But on the first icy night of vacation, out of nowhere, the guest bell rings. Then rings again. And again. Soon Milo's home is bursting with odd, secretive guests, each one bearing a strange story that is somehow connected to the rambling old house. As objects go missing and tempers flare, Milo and Meddy, the cook's daughter, must decipher clues and untangle the web of deepening mysteries to discover the truth about Greenglass House—and themselves.
The Silver Arrow by Lev Grossman
Kate and her younger brother Tom lead dull, uninteresting lives. And if their dull, uninteresting parents are anything to go by, they don't have much to look forward to. Why can't Kate have thrilling adventures and save the world the way people do in books? Even her 11th birthday is shaping up to be mundane — that is, until her mysterious and highly irresponsible Uncle Herbert, whom she's never even met before, surprises her with the most unexpected, exhilarating, inappropriate birthday present of all time: a colossal steam locomotive called the Silver Arrow.
Kate and Tom's parents want to send it right back where it came from. But Kate and Tom have other ideas — and so does the Silver Arrow — and soon they're off to distant lands along magical rail lines in the company of an assortment of exotic animals who, it turns out, can talk. With only curiosity, excitement, their own resourcefulness and the thrill of the unknown to guide them, Kate and Tom are on the adventure of a lifetime . . . and who knows? They just might end up saving the world after all.
This thrilling fantasy adventure will not only entertain young readers but inspire them to see the beautiful, exciting, and precious world around them with new eyes.
Water, Water by Cary Fagan
One morning Rafe wakes up to discover his bedroom is floating in a vast sea of water. Alone with only his dog for company, Rafe adapts to this strange new world by fishing cans of food out of the water and keeping watch. Boxes float by, as does a woman, playing her cello. Then, one day, Rafe fishes out a young girl, who joins him in his room — they don't speak the same language, but together they will face this uncertain future together.