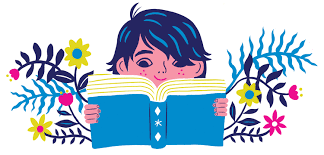 Summer is almost upon us and it is so important for children to continue to read over the summer to help prevent learning loss.
Keep those kiddos reading with some fun books that are guaranteed to keep them interested!  Here are some great reads that you and your kids can look for at your public library or favourite book store this summer.  Many of these titles are part of a series, which means more books to keep busy with!
The InvestiGators by John Patrick Green
The InvestiGators' latest case has our sewer-loving secret agents between a rock and a hard place in InvestiGators: Braver and Boulder, the latest chapter in the hilarious New York Times bestselling adventure graphic novel series from John Patrick Green.
The InvestiGators are having a hard time keeping a low profile with their new headquarters being a giant robot towering over the city! How can they be SECRET agents if everyone recognizes them?
But with their ears to the ground, Mango and Brash hear mysterious rumblings about BOULDER BUDDIES…are they just the latest fad or part of a mob-run scheme? And could a rocky relationship from the InvestiGators' past be trembling beneath the surface? Find out in their most stone-cold dangerous mission yet!
Sparks! by Ian Boothby and Nina Matsumoto
Sparks is a hero and man's best friend, but nobody suspects he's two cats!
This Super Dog is the Cat's Meow!  August is a brilliant inventor who is afraid of the outside. Charlie is a crack pilot who isn't afraid of anything. Together these pals save lives every day. They also happen to be cats who pilot a powerful, mechanical dog suit! Always eager to leap into danger, this feline duo have their work cut out for them as they try to thwart Princess, an evil alien bent on enslaving mankind. Don't let the fact that Princess looks like a cute, diaper-wearing baby fool you. She's clever, determined, and totally ruthless. So when Princess and the browbeaten fools she calls servants enact a brilliant and dastardly plan to conquer Earth, August and Charlie pull out all the stops to save the day.
Pink, Blue, and You! by Elise Gravel
Simple, accessible, and direct, this picture book is perfect for kids and parents or teachers to read together, opening the door to conversations about gender stereotypes and everyone's right to be their true selves.
Is it okay for boys to cry? Can girls be strong? Should girls and boys be given different toys to play with and different clothes to wear? Should we all feel free to love whoever we choose to love? In this incredibly kid-friendly and easy-to-grasp picture book, author-illustrator Elise Gravel and transgender collaborator Mykaell Blais raise these questions and others relating to gender roles, acceptance, and stereotyping.
With its simple language, colorful illustrations, engaging backmatter that showcases how "appropriate" male and female fashion has changed through history, and even a poster kids can hang on their wall, here is the ideal tool to help in conversations about a multi-layered and important topic.
Rabbit & Bear by Julian Gough & Jim Field
Rabbit and Bear are neighbors who face avalanches, snowmen, a hungry wolf…and more! Can they become friends too?
Named to Kirkus Reviews' Best Middle-Grade Books of 2019
2020 IBPA Benjamin Franklin Awards GOLD Winner
When Bear wakes up early from her hibernation, she decides to build a snowman. Her grumpy neighbor, Rabbit, decides to build an even better one. Rabbit & Bear: Rabbit's Bad Habits is full of laugh-out-loud moments and chronicles the forming of an unlikely friendship. With illustrations throughout, this book is perfect for middle grade readers and is sure to become a fun favorite on any kid's bookshelf.
Stuntboy by Jason Reynolds and illustrated by Raul the Third
A Schneider Family Award Honor Book for Middle Grade
From Newbery Medal honoree and #1 New York Times bestselling author Jason Reynolds comes a hilarious, hopeful, and action-packed middle grade novel about the greatest young superhero you've never heard of, filled with illustrations by Raúl the Third!
Heartwood Hotel by Kallie George and illustrated by Stephanie Graegin
"Charming and imaginative, and full of endearing characters who excel at kindness as only animals can. With stories that highlight the power of friendship, Heartwood Hotel is sure to leave readers eager to visit again." —Ashley Spires, author and illustrator of The Most Magnificent Thing
"If there's one thing Vancouver author Kallie George knows, it's how to create a tale full of whimsy." —Quill & Quire
Downton Abbey meets The Tale of Peter Rabbit in this heartwarming chapter book about a mouse discovering where she belongs.
MegaBat by Anna Humphrey and illustrated by Kass Reich
A sweet and hilarious chapter book about a boy and a bat, two unlikely friends who bond over loneliness, jellyrolls and Darth Vader.
Arlo & Pip by Elise Gravel
Perfect for fans of Narwhal and Jelly, Arlo & Pips: King of the Birds is the first in a new early graphic chapter book series about the friendship between Arlo, an arrogant crow, and a sarcastic little bird named Pips.
Dragon Kingdom by Jordan Quinn
In the first installment of the exciting Dragon Kingdom of Wrenly graphic novel series, the scarlet dragon Ruskin's bravery is put to the test when a curse threatens his kingdom.
As the pampered pet dragon of the Prince of Wrenly, Ruskin has never known life beyond the walls of the palace. Until the day a young dragon from Crestwood comes to the palace to plead for help. An evil curse has been unleashed in Crestwood and threatens to destroy all of Wrenly. Ruskin has a choice to make: stay safe at home in the palace, or try to help save his kingdom. For Ruskin, there is no choice. He knows he has to try and help if he can.
What Ruskin and his new dragon friends don't yet realize is that the curse was awoken for one reason only—to put Ruskin in harm's way. The mission to reverse the curse is far more dangerous than anyone realizes…in fact, it's seemingly impossible. Why is Ruskin the target of these shadowy forces? And how far is Ruskin willing to go to save his kingdom?
The Secret Explorers by S.J. King
Dive into the world of The Secret Explorers and learn about ocean life in this action-packed first installment in a brand-new fiction series.
Meet The Secret Explorers! This group of brilliant kids comes together from all four corners of the globe to fix problems, solve mysteries, and gather knowledge all over the planet – and beyond. Whenever their help is needed, a special sign will appear on a door. They step through to the Exploration Station and receive their mission…
Wind Riders by Jen Marlin and Illustrated by Izzy Burton
Hop aboard Wind Rider, a magical sailboat, with Max and Sofia, two kids trying to save the environment one problem at a time. Their first mission? Rescuing baby sea turtles in the beautiful waters of Hawaii.
Max and Sofia are ordinary kids whose lives are changed when they discover an abandoned sailboat. They're given the chance to make a real impact when the boat magically brings them them to a different corner of the world to help other kids save their environment!
Dragon Girls by Maddy Mara
Dragon Girls is a super collectible new series that celebrates the inner fire of everyday girls.
We are Dragon Girls, hear us roar!  Azmina, Willa, and Naomi are thrilled to learn they're Glitter Dragon Girls. Summoned to the Magic Forest by its magnificent ruler, the Tree Queen, the girls quickly find out their dragon-selves have unbelievable abilities. They can soar above the treetops, breathe glitter-y bursts of fire, and roar loud enough to shake the ground. With this newfound magic comes a big responsibility, however. As Dragon Girls, they are sworn protectors of the forest and must help keep it safe from the troublesome Shadow Sprites, who are determined to take the forest's magic for their own.
Can You Hear the Trees Talking? by Peter Wohlleben
WINNER OF THE AAAS/SUBARU PRIZE FOR EXCELLENCE IN SCIENCE BOOKS
BASED ON THE NEW YORK TIMES BESTSELLER THE HIDDEN LIFE OF TREES 
This interactive book for kids aged 8-10 introduces the wonderful science of the forest through outdoor activities, quizzes, fun facts, photographs, and more! A fun and immersive gift for nature lovers.
Sydney & Taylor by Jaqueline Davies
Best-selling author Jacqueline Davies tells the story of two unlikely friends: Sydney and Taylor, a skunk and a hedgehog who strike out to discover the great unknown, despite how afraid they are of it. Charming illustrations and a laugh-out-loud story make this chapter book perfect for fans of the Mercy Watson and Owl Diaries series.