For my professional development project this year, I have decided to tackle the question of school reading challenges.  There is a lot more to this than you would imagine.  In fact, there have been numerous studies done to evaluate if these challenges encourage or discourage reading, or even if they make any impact at all.
I have run 5 school-wide reading challenges since my arrival here 7 years ago, and they all had fairly minimal student and teacher participation.  I tried a wide variety of prizes (from pizza parties, to small prizes, to classroom parties) and formats (number of books read, number of time spent reading, individual classroom goals, book bingo, social media sharing, etc…)  Unfortunately, there wasn't much cohesion… some grades participated regularly, and some didn't at all.  One of my tasks in this project is gathering feedback from language arts teachers about what worked and what didn't.  More on the feedback later!
I started my project by looking at some of the biggest Canadian reading challenges.  Most of these are done in Public Libraries to encourage summer reading, but their applications are wider as well.  Here is a chart with some of the challenges that I have looked at so far;
An Overview of popular challenge styles in Canada
| | | |
| --- | --- | --- |
| Name of Challenge | How it works | Prizes and rewards |
| TD Summer Reading Club | Students get a nicely designed notebook where they track their reading.  For each book read they gain stickers.  This works as a sort of reading passport. | Stickers for each book read that students add to the notebook.  They also get to put their name in for a draw for big prizes every summer day they read. |
| OPL summer reading club | This is the same as the TD Summer reading club but involves more programming such as events involving robotics, events with animals, events with authors and illustrators. | Prizes are drawn for participation and books read. |
| St. Albert Public Library Summer Reading Games (Alberta) | Kids are given a reading tracker that includes a puzzle.  Students are able to colour in one piece of the puzzle per 10 minutes of reading.  There are 4, 8, or 12 hour trackers.   | When the tracker puzzle is finished, kids get a small prize.  The prizes were mostly coupons for free food and treats at various places.  There was also candy and stickers. |
| Edmonton Public Library Reading Challenge | Kids are given a reading tracker.  For every tracker completed, the child can make a button with the button maker.  A ballot was also entered for large prizes. | A button made with each tracker returned.  Large prizes included a Nintendo Switch, an electric scooter, zoo passes. |
| Read to Succeed – The Ottawa Senators Reading Challenge | Teachers set a reading goal online.  They track the class' reading with an online tracker.  As each month ends teachers submit progress.   | In April winners can get a pizza party with Spartycat or meet an Ottawa Senator.  Prizes are also drawn. |
| Toronto Public Library Reading Challenge | Print a form that involves choosing 12 books to read across 12 genres in 12 months.  Participate in online forums about your reading.  Complete the challenge and then submit it at the end for your chance to win prizes. | Prizes are not stated. |
| Battle of the Books (Selected Canadian Cities) | 6 students from the school are put on the team.  Students read from a book list.  They then meet to compete in a question challenge.  The answer to each question is from the book. | Winners get a trophy and move on to local and regional competitions.   |
| Indigo Reading Challenge – (Canada-Wide) | The Indigo reading challenge is a book genre bingo card.  For every bingo you win prizes.  The expectation is that you participate via social media.   | Book giveaways and credits. |
It was very interesting to see the wide variety of formats and prizes available and how creative and elaborate some of them got.  I love the tie-in at OPL of including events such as guest speakers and authors.  I love the creativity of kids making their own buttons as prizes, or the idea of the puzzle time trackers.  There are so many amazing librarians out there working so hard to encourage kids to read in an age where most kids would rather be on a device.  It is a beautiful thing!
What Does the Research Say?
My next step was to cover some Scholarly research.  I chose two research papers.  The first was called 'A Hook and a Book: Rewards as Motivators in Public Library Summer Reading Programs' by Ruth V. Small, Marilyn P. Arnone, and Erin Bennett who are from the Association for Library Service to Children.  This paper, published and peer-reviewed in 2017, makes some surprising and interesting points.  Their first major point was about intrinsic and extrinsic motivation.  If motivation is intrinsic, it means that children were engaging in a task for its own sake out of interest and enjoyment.  It also contributes to lifelong learning.  On the other hand, extrinsically motivated learning includes a reward system or prize.  These rewards focus the learner's attention on the prize, rather than the learning itself.  It was noted that in a paper by B.F. Skinner that giving extrinsic rewards for reading sends the learner a message that the task or behaviour is not, in and of itself interesting or valuable.  In fact, it must be in some way disagreeable since a reward is required to make them do it.  It was also noted that extrinsic rewards can undermine students self-esteem and motivation.  Children who received rewards for reading have less interest in reading unless the reward is a book.  The researchers of this paper wanted to uncover the truth of Skinner's points.
What is interesting is that these researchers actually found that the reading challenge participants felt that their reading competence was positively affected by their participation.  In fact, the results, based on interviews with students, parents, and librarians, found that relevant rewards given to students who have low intrinsic motivation can have a long-term positive impact.  It was noted, however, that the key to developing intrinsic motivation for reading relied on allowing children to choose books relevant to their interests, the setting of PERSONAL goals, and that the rewards should be related to reading or connected to the subject of the books they are reading.
The second paper I read was from Andrew Morrison at the University of Connecticut and was written as an Honors Scholar Theses.  It is called 'Incentivized Learning and Libraries: A Comparative Study of Summer Reading Programs in Connecticut' and was published in 2020.  This paper had a bit of a wider in scope in the sense that it was looking at how to promote reading in the face of declining library funding and interest without losing the intrinsic benefits.  This study contained some sad statistics, the first being that in 2018 average time spent reading for pleasure declined 24% from ten years earlier and that people age 15-34 read on average for only six minutes a day.  (I imagine this does not include reading posts on social media platforms.)  This paper covered the way many public libraries in Connecticut were running summer reading programs and highlighted some of the things that were working and some of the things that didn't.  One of the key points is the value of these programs being a way to get kids into public libraries more frequently.  Once children make a connection to the place, the staff, and the books, you can grow readers.
Instead of counting books read, most programs aim for 20 minutes of reading time per day.  Shorter chunks that came with rewards made the goal more obtainable.  And just as in the other study, one of the key points was that libraries need to foster a love of reading no matter what the text's genre, level, or audience, to create life-long readers.  This to me is a key point in an academic environment.  To gain a lifelong love of reading, we need to remember that it is not a level or genre of book that is important, it is the encouraging of student interests that will make this a life-long habit.
A wide variety of rewards in these programs included gift cards to arts classes, admission to museums, free books, field trips, etc…  In other words, the focus was less about material rewards as it was about rewards or experiences that continue to educate the child.
How Do Our Teachers Feel About Reading Challenges?
From here I moved onto surveying our OJCS language arts teachers.  It was very interesting to see the results of this survey.  Here are some of the results;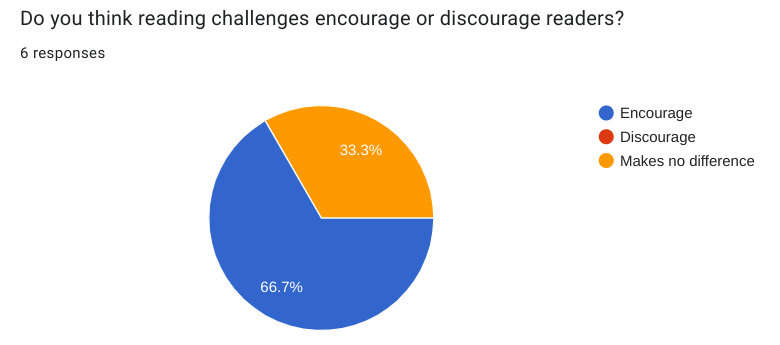 So our teachers feel that there is value in a school-wide reading challenge.  And yet in an open and honest conversation with several of them, they admitted that the reading challenges often caused students to rapidly flip through books and say that they read them just to be able to mark it down as read.  In conversation, it also came out that they felt that the challenge made reading seem like a chore, which is something that the researchers pointed out.  It causes reading to lose its intrinsic value.
It is interesting to see that they felt the most motivating prizes for their kids weren't the ones that cost money, but rather, the class party prizes.  They also felt that it was important to have a classroom goal to meet.
How Are the Students at the OJCS Reading This Year?
Circulation this year is higher than it has ever been across all grades.  My numbers are as follows;
2019 School Year from September to November:
Last school year from September to November (during this period they had to reserve books online.)
This school year so far:
This year circulation is up exponentially!  It will be the year with the highest circulation ever since I arrived at the OJCS.  It is interesting to note though that the grade with the lowest book sign out rate consistently is grade 8 (JK and SK are signed out by the teachers.)  I think this is likely due to all of the novel studies that go on in that grade, combined with a bigger homework load and of course, the fact that reading is competing against social media.
I also introduced a Manga section at the library that has created a reading frenzy among some of our historically most reluctant readers.  It is very true that by letting students read according to their own passions and interests, circulation goes way way up.
So What Now?
Some of the big takeaways for me were we to decide to run a school-wide reading challenge next year would be;
that kids set both personal and classroom goals based on time rather than quantity of books – this could mean that kids decide they want to learn more about certain topics by reading about them (animals, famous scientists, volcanoes, etc…) and that they decide to read for 30 minutes a day after school.  They will also set a class goal that can be a certain number of hours read combined for the class.
that kids track their reading in a paper-journal or puzzle-page format – This would help teachers to know what was read and the level of student comprehension.  It would also allow for documentation.
that kids be free to read according to their own interests in order to grow a life-long love of reading – this connects to students setting personal goals and means that students determine where their reading will take them this year.  There will be no rules about what books are chosen, but students are encouraged to explore and grow.
that the prize for meeting the classroom goal is a class party (maybe with a literary theme?)
after reaching a student's personal goal at the end of the year, students could choose a new book as a prize.
This has been a very enlightening project to work on and I am excited about where we will take this at the OJCS next year.  If you have any feedback for me about reading challenges, I'd love to see it in the comments below!