I was lucky to have some very special help in the library today.  Emma won our teacher raffle prize of 'Librarian for a Day'.  And what an amazing librarian she was!
First she chose books to read to the Early Beginnings preschool JK class.  The kids loved hearing her tell them a story.
She even let them vote on their second book.  She knew they'd like to be able to choose for themselves.
At recess she worked with our Grade 1s on making bookmarks, which turned out beautifully.
She then did a book display in our upstairs hallway which all of her classmates will be able to see.
She then checked in a cart of books and shelved them!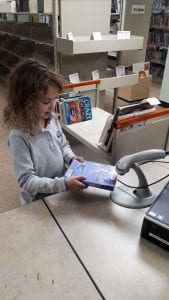 She also created a beautiful Rainbow Magic Book Display.
It was a great day and so much fun!