Summer is almost upon us and it is so important to get your tweens and teens reading this summer in order to prevent learning loss.  Here is a list of books for any taste.  Look for them at your public library or favourite book store.
Our grade 6 students should also check out the grades 4-6 reading list.
The Inheritance Games by Jennifer Lynn Barnes
Avery Grambs has a plan for a better future: survive high school, win a scholarship, and get out. But her fortunes change in an instant when billionaire Tobias Hawthorne dies and leaves Avery virtually his entire fortune. The catch? Avery has no idea why — or even who Tobias Hawthorne is.
Gallant by V.E. Schwab
Olivia Prior has grown up in Merilance School for Girls, and all she has of her past is her mother's journal—which seems to unravel into madness. Then, a letter invites Olivia to come home to Gallant. Yet when Olivia arrives, no one is expecting her. But Olivia is not about to leave the first place that feels like home; it doesn't matter if her cousin Matthew is hostile, or if she sees half-formed ghouls haunting the hallways.
Olivia knows that Gallant is hiding secrets, and she is determined to uncover them. When she crosses a ruined wall at just the right moment, Olivia finds herself in a place that is Gallant—but not. The manor is crumbling, the ghouls are solid, and a mysterious figure rules over all. Now Olivia sees what has unraveled generations of her family, and where her father may have come from.
Olivia has always wanted to belong somewhere, but will she take her place as a Prior, protecting our world against the Master of the House? Or will she take her place beside him?
Aristotle and Dante Discover the Secrets of the Universe by Benjamin Alire Saenz
Aristotle is an angry teen with a brother in prison. Dante is a know-it-all who has an unusual way of looking at the world. When the two meet at the swimming pool, they seem to have nothing in common. But as the loners start spending time together, they discover that they share a special friendship—the kind that changes lives and lasts a lifetime. And it is through this friendship that Ari and Dante will learn the most important truths about themselves and the kind of people they want to be.
You'll Be The Death of Me by Karen M. McManus
Ivy, Mateo, and Cal used to be close. Now all they have in common is Carlton High and the beginning of a very bad day. Type A Ivy lost a student council election to the class clown, and now she has to face the school, humiliated. Heartthrob Mateo is burned out from working two jobs since his family's business failed. And outsider Cal just got stood up . . . again.
So when the three unexpectedly run into each other, they decide to avoid their problems by ditching. Just the three of them, like old times. Except they've barely left the parking lot before they run out of things to say. . .
. . . until they spot another Carlton High student skipping school—and follow him to the scene of his own murder. In one chance move, their day turns from dull to deadly. And it's about to get worse. It turns out Ivy, Mateo, and Cal still have some things in common…like a connection to the dead kid. And they're all hiding something.
Could it be that their chance reconnection wasn't by chance after all?
Poison for Breakfast by Lemony Snicket
This true story–as true as Lemony Snicket himself–begins with a puzzling note under his door: You had poison for breakfast. Following a winding trail of clues to solve the mystery of his own demise, Snicket takes us on a thought-provoking tour of his predilections: the proper way to prepare an egg, a perplexing idea called "tzimtzum," the sublime pleasure of swimming in open water, and much else.
Poison for Breakfast is a classic-in-the-making that–in the great tradition of modern fables like The Little Prince and The Phantom Tollbooth–will delight readers of all ages.
Wrong Side of The Court by H.N. Khan
Fifteen-year-old Fawad Chaudhry loves two things: basketball and his mother's potato and ground beef stuffed parathas. Both are round and both help him forget about things like his father, who died two years ago, his mother's desire to arrange a marriage to his first cousin, Nusrat, back home in Pakistan, and the tiny apartment in Regent Park he shares with his mom and sister. Not to mention his estranged best friend Yousuf, who's coping with the shooting death of his older brother.
But Fawad has plans: like, asking out Ashley, even though she lives on the other, wealthier side of the tracks, and saving his friend Arif from being beaten into a pulp for being the school flirt, and making the school basketball team and dreaming of being the world's first Pakistani to be drafted into the NBA. All he has to do now is convince his mother to let him try out for the basketball team. And let him date girls from his school. Not to mention somehow get Omar, the neighborhood bully, to leave him alone . . .
A Winter's Promise by Christelle Dabos
Plain-spoken, headstrong Ophelia cares little about appearances. Her ability to read the past of objects is unmatched in all of Anima and, what's more, she possesses the ability to travel through mirrors, a skill passed down to her from previous generations. Her idyllic life is disrupted, however, when she is promised in marriage to Thorn, a taciturn and influential member of a distant clan. Ophelia must leave all she knows behind and follow her fiance to Citaceleste, the capital of a cold, icy ark known as the Pole, where danger lurks around every corner and nobody can be trusted. There, in the presence of her inscrutable future husband, Ophelia slowly realizes that she is a pawn in a political game that will have far-reaching ramifications not only for her but for her entire world.
Charming As A Verb by Ben Philippe
Henri "Halti" Haltiwanger can charm just about anyone. He is a star debater and popular student at the prestigious FATE academy, the dutiful first-generation Haitian son, and the trusted dog walker for his wealthy New York City neighbors. But his easy smiles mask a burning ambition to attend his dream college, Columbia University.
There is only one person who seems immune to Henri's charms: his "intense" classmate and neighbor Corinne Troy. When she uncovers Henri's less-than-honest dog-walking scheme, she blackmails him into helping her change her image at school. Henri agrees, seeing a potential upside for himself.
Soon what started as a mutual hustle turns into something more surprising than either of them ever bargained for. . . .
This is a sharply funny and insightful novel about the countless hustles we have to keep from doing the hardest thing: being ourselves.
Tremendous Things by Susin Nielsen
We all have moments that define us. For the comically clueless Wilbur, his moment happened on the first day of middle school, when someone shared his private letter with the entire student body. It revealed some of Wilbur's innermost embarrassing thoughts that no one else should ever know.
Now it's the start of ninth grade and Wilbur hasn't been able to escape that major humiliation. His good friend Alex stuck by him, but Alex doesn't have as much time since he started dating Fabrizio. Luckily, Wil can confide in his best
friend: his elderly neighbor Sal. Also, Wil's in the school band, where he plays the triangle. They're doing an exchange program with students from Paris, and Wilbur's billet, Charlie, a tall, chic young woman who plays the ukulele and burps with abandon, captures his heart. Charlie likes him, but only as a friend. So Alex, Fabrizio and Sal host a Queer Eye-style intervention to get Wil in shape and to build his confidence so he can impress Charlie when their band visits Paris, and just maybe replace humiliation with true romance in the City of Love.
Lycanthropy and Other Chronic Illnesses by Kristen O'Neal
Priya worked hard to pursue her premed dreams at Stanford, but the fallout from undiagnosed Lyme disease sends her back to her childhood home in New Jersey during her sophomore year—and leaves her wondering if she'll ever be able to return to the way things were.
Thankfully she has her online pen pal, Brigid, and the rest of the members of "oof ouch my bones," a virtual support group that meets on Discord to crack jokes and vent about their own chronic illnesses.
When Brigid suddenly goes offline, Priya does something out of character: she steals the family car and drives to Pennsylvania to check on Brigid. Priya isn't sure what to expect, but it isn't the horrifying creature that's shut in the basement.
With Brigid nowhere to be found, Priya begins to puzzle together an impossible but obvious truth: the creature might be a werewolf—and the werewolf might be Brigid. As Brigid's unique condition worsens, their friendship will be deepened and challenged in unexpected ways, forcing them to reckon with their own ideas of what it means to be normal.
Dan vs. Nature by Don Calame
Shy and scrawny Dan Weekes spends his time creating graphic novels inspired by his dream girl and looking out for his mom as she dates every man in the state of California. Then his mom drops a bomb: she and her latest beau, Hank, are engaged, and she's sending her "two favorite men" on a survivalist camping trip to "bond." Determined to trick Hank into showing his true — flawed — colors on the trip, Dan and his nerdy germaphobe best friend, Charlie, prepare a series of increasingly gross and embarrassing pranks. But the boys hadn't counted on a hot girl joining their trip or on getting separated from their wilderness guide—not to mention the humiliating injuries Dan suffers in the course of terrorizing his stepdad-to-be. With a man-hungry bear on their trail, no supplies, and a lot of unpleasant itching going on, can Dan see his plan through now that his very survival depends on Hank?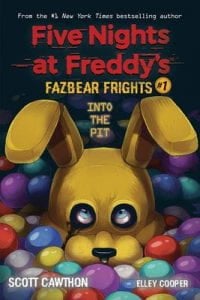 Five Nights at Freddy's: Fazbear Frights by Scott Cawthon
What do you wish for most? It's a question that Oswald, Sarah, and Millie think they know the answer to. Oswald wishes his summer wasn't so boring, Sarah wishes to be beautiful, and Millie wishes she could just disappear from the face of the earth. But in the twisted world of Five Nights at Freddy's, their hearts' deepest desires have an unexpected cost.In this volume, Five Nights at Freddy's creator Scott Cawthon spins three sinister novella-length stories from different corners of his series' canon, featuring cover art from fan-favorite artist LadyFiszi. Readers beware: This collection of terrifying tales is enough to unsettle even the most hardened Five Nights at Freddy's fans.
Heartstopper by Alice Oseman
Shy and softhearted Charlie Spring sits next to rugby player Nick Nelson in class one morning. A warm and intimate friendship follows, and that soon develops into something more for Charlie, who doesn't think he has a chance.
But Nick is struggling with feelings of his own, and as the two grow closer and take on the ups and downs of high school, they come to understand the surprising and delightful ways in which love works.
Teen Titans: Beast Boy Loves Raven by Kami Garcia and Gabriel Picolo
It seems like years, but it's only been a few days since Raven Roth recovered her memories; trapped her demon father, Trigon, in her amulet; and had her heart broken for the first time. But she doesn't have time to think about the past…she has to focus on finding a way to get rid of Trigon for good.
Garfield Logan still can't believe he has powers that allow him to change into different animals, but the price of knowing that his parents kept this secret hidden from him just feels too high. And what's more, his difficulty controlling these abilities could have unexpected consequences.
Both are seeking answers from the one person who seems to have them all figured out: Slade Wilson.
When their paths converge in Nashville, Raven and Gar can't help but feel a connection, despite the secrets they both try to hide. It will take a great amount of trust and courage to overcome the wounds of their pasts. But can they find acceptance for the darkest parts of themselves? Or maybe even love?
Lifetime Passes by Terry Blas and Claudia Aguirre
Sixteen-year-old Jackie Chavez loves her local amusement park, Kingdom Adventure, maybe more than anything else in the world. The park is all she and her friends Nikki, Daniel, and Berke—although they aren't always the greatest friends—talk about. Kingdom Adventure is where all Jackie's best memories are, and it's where she feels safe and happy. This carries even more weight now that Jackie's parents have been deported and forced to go back to Mexico, leaving Jackie in the United States with her Tía Gina, who she works with at the Valley Care Living seniors' home. When Gina tells Jackie that they can't afford a season pass for next summer, Jackie is crushed. But on her next trip to Kingdom Adventure, she discovers a strictly protected secret: If a member of their party dies at the park, the rest of their group gets free lifetime passes.
Bravely by Maggie Stiefvater
ONE PRINCESS. Merida of DunBroch needs a change. She loves her family—jovial King Fergus, proper Queen Elinor, the mischievous triplets— and her peaceful kingdom. But she's frustrated by its sluggishness; each day, the same. Merida longs for adventure, purpose, challenge – maybe even, someday, love.
TWO GODS. But the fiery Princess never expects her disquiet to manifest by way of Feradach, an uncanny supernatural being tasked with rooting out rot and stagnation, who appears in DunBroch on Christmas Eve with the intent to demolish the realm – and everyone within. Only the intervention of the Cailleach, an ancient entity of creation, gives Merida a shred of hope: convince her family to change within the year – or suffer the eternal consequences.
THREE VOYAGES. Under the watchful eyes of the gods, Merida leads a series of epic journeys to kingdoms near and far in an attempt to inspire revolution within her family. But in her efforts to save those she loves from ruin, has Merida lost sight of the Clan member grown most stagnant of all – herself?
FOUR SEASONS TO SAVE DUNBROCH – OR SEE IT DESTROYED, FOREVER.
Hotel Magnifique by Emily J. Taylor
All her life, Jani has dreamed of Elsewhere. Just barely scraping by with her job at a tannery, she's resigned to a dreary life in the port town of Durc, caring for her younger sister Zosa. That is, until the Hotel Magnifique comes to town.
The hotel is legendary not only for its whimsical enchantments, but also for its ability to travel—appearing in a different destination every morning. While Jani and Zosa can't afford the exorbitant costs of a guest's stay, they can interview to join the staff, and are soon whisked away on the greatest adventure of their lives. But once inside, Jani quickly discovers their contracts are unbreakable and that beneath the marvelous glamour, the hotel is hiding dangerous secrets.
With the vexingly handsome doorman Bel as her only ally, Jani embarks on a mission to unravel the mystery of the magic at the heart of the hotel and free Zosa—and the other staff—from the cruelty of the ruthless maître d'hôtel. To succeed, she'll have to risk everything she loves, but failure would mean a fate far worse than never returning home.
Novice by Taran Matharu
Fletcher is working as a blacksmith's apprentice when he discovers he has the rare ability to summon demons from another world. Chased from his village for a crime he did not commit, Fletcher must travel with his demon, Ignatius, to an academy for adepts, where the gifted are taught the art of summoning.
Along with nobles and commoners, Fletcher endures grueling lessons that will prepare him to serve as a Battlemage in the Empire's war against the savage Orcs. But sinister forces infect new friendships and rivalries grow. With no one but Ignatius by his side, Fletcher must decide where his loyalties lie. The fate of the Empire is in his hands. . . .
Hello (from here) by Chandler Baker & Wesley King
Maxine and Jonah meet in the canned goods aisle just as California is going into lockdown. Max's part-time job as a personal grocery shopper is about to transform into a hellish gauntlet. Jonah's preexisting anxiety is about to become an epic daily struggle. As Max and Jonah get to know each other through FaceTime dates, socially distanced playground hangs, and the escalating heartbreaks of the pandemic, they're pushed apart by what they don't share and pulled closer by what they do.
As thoughtful, probing, and informed as it is buoyant, romantic, and funny, Hello (From Here) cuts across differences in class, privilege, and mental health, all thrown into stark relief by the COVID-19 pandemic. Here's a novel that looks at the first two months of the quarantine, and adds falling in love to the mess.
Jordie & Joey Fell From the Sky by Judi Lauren
When another kid at school tried to force Jordie to show him the "crop circles" on his back that prove he's an alien, it was Joey who took the kid to the ground. And when the twins got kicked out of their foster home because Joey kissed the other boy who lived there, it was Jordie who told him everything would be okay. And as long as Jordie and Joey are together, it will be. But when the principal calls their current foster mother about a fight at school, the boys know she'll be done with them. And, from spying in their file, they also know they're going to be separated.
Determined to face the world side by side rather than without one another, Jordie and Joey set off to find their birth parents. From Arizona to Roswell to Area 51 in the Nevada desert, the twins begin a search for where they truly belong. But Jordie's about to discover that family isn't always about the ones who bring you into the world, but the ones who help you survive it."