JDAIM Storytime – Kindness
One of February's designations is Jewish Disability Awareness, Acceptance and Inclusion Month.  Our focus this week is kindness and ways we can be kind.  We read:
When I Care About Others by Cornelia Maude Spelman and illustrated by Kathy Parkinson
and
Kind by Axel Scheffler and 38 illustrators!
Class Activity – Make A Class Kindness Jar!
You have two options for a class kindness jar…
Option 1:
Every time a student in your class does something kind, they can put a pom pom in the kindness jar.  Once it's full, the class gets a prize!
Option 2: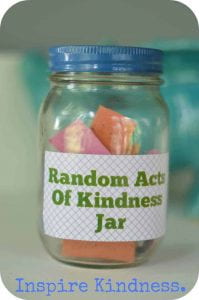 Have students each fill in 3 post-it's with ideas for a random act of kindness that can be done at school.  Each day upon entering class, students pick one post-it from the jar and need to find a way to fulfill that act of kindness before the end of the school day.  Ideas could include;
clean up part of the classroom
give someone a compliment
play with someone who is alone
open a door for someone
offer to help your teacher with something
pick up trash in the hallway and put it in the garbage
listen to someone who is sad or upset
make a new friend