Your parents and teachers (including me!) are often trying to educate you about the problems and safety issues surrounding social media.  That it's addictive, that some platforms are inappropriate, that it is full of ill-intentioned strangers.  There is of course some truth to some of this, but there is also a bright and shiny flip side.  There are a lot of positives that come from our ability to connect with friends and strangers around the world.  Today's lesson is about how we can use social media to make a positive impact.   
Greta Thunberg is an example of someone who has used social media to spread the word about climate change.  She has 4.1 million followers on Twitter and 10.2 million followers on Instagram. She uses these platforms to raise awareness and as a call to action in all of the cities and towns she visits.
We are going to look at some of the platforms people are using online to help make change in the world.  I am going to use the example of environmental issues for this lesson as that is a topic that many of you have expressed is a big concern.
Instagram
You can post photos on Instagram relating to an environmental issue that is affecting your community.  Maybe it's a photo of a pond near your house that's full of garbage and needs to be cleaned up. Maybe it's a photo of an amazing vegan meal you made.  Maybe it's a photo of a wild storm that is directly related to climate change. Whatever it is, share some information with the photo so that people who see it can take action in some way.  Even if that means sharing a recipe! Use hashtags too. https://www.instagram.com/explore/tags/environment/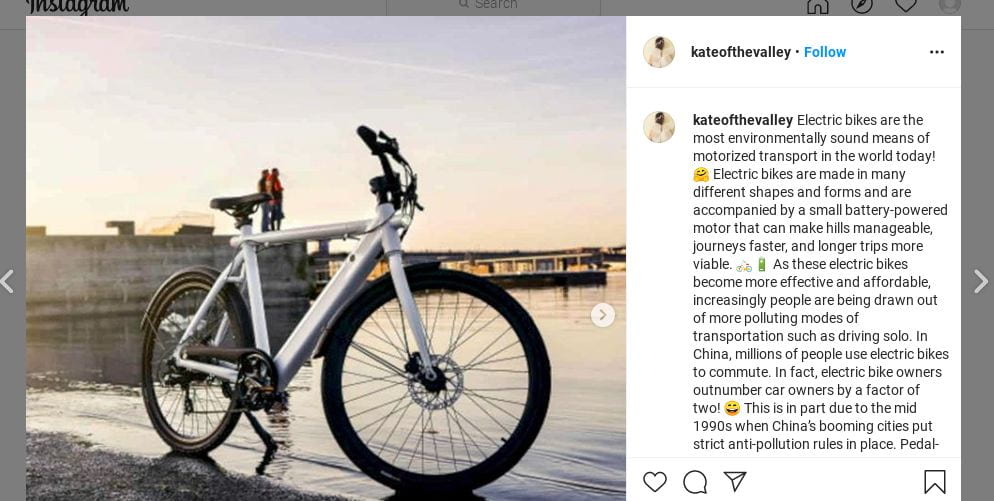 Tik Tok
You can even make Tik Tok videos that spread the word! 
Twitter
Twitter is a great place to tweet about these issues or retweet important articles.  Also, be sure and follow organizations connected to the causes that are important to you. 
https://twitter.com/search?q=%23ClimateChange&src=typeahead_click
YouTube
You can produce your own short youtube videos that educate others about issues that concern you!
Blog
Write a blog post about it! 
http://jnewbio.edublogs.org/tag/climate-change/
Activity: Idea Generation and Post Creation
Feeling like we are making a difference is very empowering.  Create a post that can contribute to educating others about any issue that is important to YOU.  Highlight an issue you'd like to address in a post and choose the platform you'd like to use that you have an existing account for.  If you are not on social media or are not old enough to create an account, this could be a personal blog post or just an image you can share out that includes a caption.  This can be done now or over the course of the next two weeks.  Make sure to do some research and get your facts straight so that you are not posting any misinformation.  If you are able to share it with me or screenshot it and email it to me I'd love to include them on this page.  b.ruel@theojcs.ca