Fun Summer Reading Recommendations Gr 4-5
Summer is almost here and it is important to encourage kids to continue to read all summer long.  This helps to prevent the "summer slide" which is when students lose about 20% of their reading gains over the summer months through lack of use.  These fun books will have your kids excited to read and it won't feel like a chore.  And don't forget to encourage them to participate in the first ever OJCS Summer Reading Challenge.  For more details about that click here.
Swim Team is a perfect fit for Telgemeier and Jamieson readers. Bree is starting a new school and hopes she will make new friends quickly. Her inability to swim, however, makes her the target of school bullies and she is first afraid to ask for help. Christmas is able to use his themes to also expand seamlessly upon some elements of black history against the backdrop of Bree's story.
A middle grade graphic memoir based on bestselling author and Caldecott Medalist Dan Santat's awkward middle school years and the trip to Europe that changed his life.
Dan's always been a good kid. The kind of kid who listens to his teachers, helps his mom with grocery shopping, and stays out of trouble. But being a good kid doesn't stop him from being bullied and feeling like he's invisible, which is why Dan has low expectations when his parents send him on a class trip to Europe.
At first, he's right. He's stuck with the same girls from his middle school who love to make fun of him, and he doesn't know why his teacher insisted he come on this trip. But as he travels through France, Germany, Switzerland, and England, a series of first experiences begin to change him—first Fanta, first fondue, first time stealing a bike from German punk rockers… and first love.
Funny, heartwarming, and poignant, A First Time for Everything is a feel-good coming-of-age memoir based on New York Times bestselling author and Caldecott Medal winner Dan Santat's awkward middle school years. It celebrates a time that is universally challenging for many of us, but also life-changing as well.
From the New York Times bestselling author of Front Desk comes a gripping middle grade novel about a young girl who leaves China to live with her parents and sister, after five years apart, and learns about family, friendship, and the power of being finally seen.
My sister got to grow up with my parents. Me? I grew up with postcards from my parents.
When ten-year-old Lina Gao steps off the plane in Los Angeles, it's her first time in America and the first time seeing her parents and her little sister in five years! She's been waiting for this moment every day while she lived with her grandmother in Beijing, getting teased by kids at school who called her "left behind girl." Finally, her parents are ready for her to join their fabulous life in America! Except, it's not exactly like in the postcards.
The graphic novel adaptation of the mega-bestseller that launched a global phenomenon!
Minutes before she died Grace Cahill changed her will, leaving her decendants an impossible decision: "You have a choice – one million dollars or a clue."
Grace is the last matriarch of the Cahills, the world's most powerful family. Everyone from Marie Curie to Harry Houdini is related to the Cahills, yet the source of the family power is lost. 39 Clues hidden around the world will reveal the family's secret, but no one has been able to assemble them. Now the clues race is on, and young Amy and Dan must decide what's important: hunting clues or uncovering what REALLY happened to their parents.
New York Times #1 best-selling author Rick Riordan pays homage to Jules Verne in his exciting modern take on 20,000 Leagues Under the Sea, now in paperback.

"If you have ever craved a story that will leave your heart racing, your lungs gasping from the numerous twists and turns, and your soul heaving from carrying an ensemble cast, you will find all that in these pages."–New York Times best-selling author Roshani Chokshi
Ana Dakkar is a freshman at Harding-Pencroft Academy, a five-year high school that graduates the best marine scientists, naval warriors, navigators, and underwater explorers in the world. Ana's freshman year culminates with the class's weekend trial at sea, the details of which have been kept secret. She only hopes she has what it'll take to succeed. All her worries are blown out of the water when, on the bus ride to the ship, Ana and her schoolmates witness a terrible tragedy that will change the trajectory of their lives.
The professor accompanying them informs Ana that their rival school, Land Institute, and Harding-Pencroft have been fighting a cold war for a hundred and fifty years. Now that cold war has been turned up to a full broil, and the freshman are in danger of becoming fish food. In a race against deadly enemies, Ana will make amazing friends and astounding discoveries about her heritage as she puts her leadership skills to the test for the first time.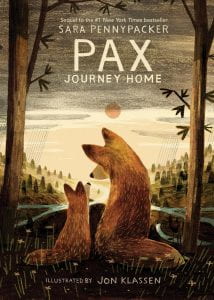 From award-winning author Sara Pennypacker comes the long-awaited sequel to Pax; this is a gorgeously crafted, utterly compelling novel about chosen families and the healing power of love. A New York Times bestseller!
It's been a year since Peter and his pet fox, Pax, have seen each other. Once inseparable, they now lead very different lives.
Pax and his mate, Bristle, have welcomed a litter of kits they must protect in a dangerous world. Meanwhile Peter—newly orphaned after the war, racked with guilt and loneliness—leaves his adopted home with Vola to join the Water Warriors, a group of people determined to heal the land from the scars of the war.
When one of Pax's kits falls desperately ill, he turns to the one human he knows he can trust. And no matter how hard Peter tries to harden his broken heart, love keeps finding a way in. Now both boy and fox find themselves on journeys toward home, healing—and each other, once again.
As he did for Pax, Jon Klassen, New York Times bestseller, Caldecott medalist, and two-time Caldecott Honoree, has created stunning jacket and interior illustrations.
The story of a boy, a dog, and the storm of the century is brought vividly to life in this graphic novel adaptation of Lauren Tarshis's bestselling I Survived Hurricane Katrina, 2005, with text adapted by Georgia Ball.
Barry's family tries to evacuate before Hurricane Katrina hits their home in New Orleans. But when his little sister gets terribly sick, they're forced to stay home and wait out the storm.
At first, Katrina doesn't seem to be as bad as predicted. But overnight the levees break, and Barry's world is literally torn apart. He's swept off by the floodwaters, away from his family. Can he survive the storm of the century — alone?
Lauren Tarshis's New York Times bestselling I Survived series comes to vivid life in graphic novel editions. Perfect for readers who prefer the graphic novel format, or for existing fans of the I Survived chapter book series, these graphic novels combine historical facts with high-action storytelling that's sure to keep any reader turning the pages. Includes a nonfiction section at the back with facts and photos about the real-life event.
WINNER OF THE NEWBERY MEDAL • WINNER OF THE ASIAN/PACIFIC AMERICAN AWARD FOR CHILDREN'S LITERATURE • #1 NEW YORK TIMES BESTSELLER
Would you make a deal with a magical tiger? This uplifting story brings Korean folklore to life as a girl goes on a quest to unlock the power of stories and save her grandmother.
Some stories refuse to stay bottled up…
When Lily and her family move in with her sick grandmother, a magical tiger straight out of her halmoni's Korean folktales arrives, prompting Lily to unravel a secret family history. Long, long ago, Halmoni stole something from the tigers. Now they want it back. And when one of the tigers approaches Lily with a deal–return what her grandmother stole in exchange for Halmoni's health–Lily is tempted to agree. But deals with tigers are never what they seem! With the help of her sister and her new friend Ricky, Lily must find her voice…and the courage to face a tiger.
From New York Times bestselling author Molly Knox Ostertag and critically acclaimed illustrator Xanthe Bouma comes an all-new Dungeons & Dragons graphic novel series!
Middle school is a dungeon… At least, that's how Jess sees it.
Luckily, she and her best friend Olivia know how to escape into the sprawling worlds of their own imaginations. The two friends have always loved making up stories, first with little kid games of make-believe, and more recently with the fantasy roleplaying game, Dungeons & Dragons. When they play, Olivia runs the game as Dungeon Master and Jess is the solo party member, playing a take-no-prisoners, lone-wolf fighter of her own design named Sir Corius.
But when Olivia wants to add new players to their group, Jess finds herself struggling to share their game—and her best friend. Will their epic campaign withstand all this change, or has their adventure—and their friendship—finally come to an end?
Internationally bestselling superstar author Angie Thomas makes her middle grade debut with the launch of an inventive, hilarious, and suspenseful new contemporary fantasy trilogy inspired by African American history and folklore.
It's not easy being a Remarkable in the Unremarkable world. Some things are cool—like getting a pet hellhound for your twelfth birthday. Others, not so much—like not being trusted to learn magic because you might use it to take revenge on an annoying neighbor.
All Nic Blake wants is to be a powerful Manifestor like her dad. But before she has a chance to convince him to teach her the gift, a series of shocking revelations and terrifying events launch Nic and two friends on a hunt for a powerful magic tool she's never heard of…to save her father from imprisonment for a crime she refuses to believe he committed.
Epic adventures. Fierce warrior cats. A thrilling fantasy world. It all begins here. 
Read the book that began a phenomenon—and join the legion of fans who have made Erin Hunter's Warriors series a #1 national bestseller.
For generations, four Clans of wild cats have shared the forest according to the laws laid down by their ancestors. But the warrior code has been threatened, and the ThunderClan cats are in grave danger. The sinister ShadowClan grows stronger every day. Noble warriors are dying—and some deaths are more mysterious than others.
In the midst of this turmoil appears an ordinary housecat named Rusty . . . who may turn out to be the bravest warrior of them all.
Jayden Carr has been training all summer to be ready for Hoop Group—the free afterschool basketball program where his hero, NBA superstar Kendrick King, got his start. But when his beloved coach tells him there's not going to be a Hoop Group this year, Jayden is heartbroken.
And he's not the only one. Coach Beck's daughter, Tamika, was planning to be the first girl ever to start for the squad. Chris King, Kendrick's only nephew, spent the summer bragging that his uncle was coming home just to watch him play. For Anthony Pierson, Hoop Group was supposed to be his way out of trouble. And for Dexter Donyel, all 4'6" of him, Hoop Group was his chance to finally be part of a team, instead of just watching from the stands.
For each kid, Hoop Group was more than just a chance to ball; it was an escape, a dream, a family. Now their prospects seem all but impossible—but then the world hasn't met Jayden, Tamika, Chris, Anthony, and Dex before. Determined to have their shot, the five new friends scrap, hustle, fight, and play hard to save their season to prove that sometimes a chance is all it takes.
It's an inspiring, original middle grade story from NBA superstar LeBron James and acclaimed author Andrea Williams that channels the many relatable challenges so many young kids face.
A smart and charming middle-grade mystery series starring young detective Aggie Morton and her friend Hector, inspired by the imagined life of Agatha Christie as a child and her most popular creation, Hercule Poirot.
Aggie Morton lives in a small town on the coast of England in 1902. Adventurous and imaginative but deeply shy, Aggie hasn't got much to do since the death of her beloved father . . . until the fateful day when she crosses paths with twelve-year-old Belgian immigrant Hector Perot and discovers a dead body on the floor of the Mermaid Dance Room! As the number of suspects grows and the murder threatens to tear the town apart, Aggie and her new friend will need every tool at their disposal — including their insatiable curiosity, deductive skills and not a little help from their friends — to solve the case before Aggie's beloved dance instructor is charged with a crime Aggie is sure she didn't commit.
Step out of your element with Science Comics: The Periodic Table of Elements, the latest volume of First Second's nonfiction graphic novel series!

A book of fun chemistry experiments has fallen into the wrong hands. Only Mel can use her knowledge of the periodic table to put an end to a maniacal madman's evil schemes.
The periodic table helps us quickly understand the 118 elements, those tiny substances that make up everything in the world. By using the periodic table, we can recognize how these building blocks behave, find trends and patterns in the universe, and make predictions about elements that haven't been discovered yet. Join us in learning about the periodic table, and maybe the next big discovery will be yours!
On the day they are born, every Swift child is brought before the sacred Family Dictionary. They are given a name, and a definition. A definition it is assumed they will grow up to match.
Meet Shenanigan Swift: Little sister. Risk-taker. Mischief-maker.
Shenanigan is getting ready for the big Swift Family Reunion and plotting her next great scheme: hunting for Grand-Uncle Vile's long-lost treasure. She's excited to finally meet her arriving relatives—until one of them gives Arch-Aunt Schadenfreude a deadly shove down the stairs.
So what if everyone thinks she'll never be more than a troublemaker, just because of her name? Shenanigan knows she can become whatever she wants, even a detective. And she's determined to follow the twisty clues and catch the killer.
Deliciously suspenseful and delightfully clever, The Swifts is a remarkable debut that is both brilliantly contemporary and instantly classic. A celebration of words and individuality, it's packed with games, wordplay, and lots and lots of mischief as Shenanigan sets out to save her family and define herself in a world where definitions are so important.
From the singular imagination of National Book Award winner M. T. Anderson comes a magical adventure about a boy and his dog—or a dog and her boy—and a forest of wonders hidden in plain sight.
Clay has had his fill of home life. A global plague has brought the world to a screeching halt, and with little to look forward to but a summer of video-calling friends, vying with annoying sisters for the family computer, and tuning out his parents' financial worries, he's only too happy to retreat to the woods. From the moment the elegant little dog with the ornate collar appears like an apparition among the trees, Clay sees something uncanny in her. With this mysterious Elphinore as guide, he'll glimpse ancient secrets folded all but invisibly into the forest. Each day the dog leads Clay down paths he never knew existed, deeper into the unknown. But they aren't alone in their surreal adventures. There are traps and terrors in the woods, too, and if Clay isn't careful, he might stray off the path and lose his way forever. Graced with evocative black-and-white illustrations by Junyi Wu, Elf Dog and Owl Head is heartfelt and exhilarating, wry and poignant, seamlessly merging the fantastic and the familiar in a tale both timely and timeless.
Trevor Noah, host of The Daily Show on Comedy Central, shares his remarkable story of growing up in South Africa with a black South African mother and a white European father at a time when it was against the law for a mixed-race child to exist. But he did exist–and from the beginning, the often-misbehaved Trevor used his keen smarts and humor to navigate a harsh life under a racist government.
In a country where racism barred blacks from social, educational, and economic opportunity, Trevor surmounted staggering obstacles and created a promising future for himself thanks to his mom's unwavering love and indomitable will.
This honest and poignant memoir adapted from the #1 New York Times bestseller Born a Crime: Stories from a South African Childhood will astound and inspire readers as well as offer a fascinating perspective on South Africa's tumultuous racial history.
Gabe's summer job scaring tourists with ghost stories turns terrifyingly real when he accidentally summons the spirit of a dead girl—and must join forces with her to protect the world of the living. A new story by award-winning author Ken Oppel for ages 10 and up.
The story of the tragic death of sixteen-year-old Rebecca Strand and her lighthouse keeper father is just an elaborate tale Gabe tells tourists for his summer job on Toronto Island. Or so he thought.
When his ghost tours awaken Rebecca's spirit, Gabe is drawn into a world far darker than any ghost story he's ever heard. Rebecca reveals that she and her father were connected to the Order, a secret society devoted to protecting the world from "the wakeful and wicked dead"—malevolent spirits like Viker, the ghost responsible for their deaths. But now the Order has disappeared and Viker is growing even stronger, and he'll stop at nothing to wreak chaos and destruction on the living.
Gabe and his friends—both living and dead—must find a way to stop Viker before they all become lost souls.
He had always wanted to be a warrior. The Rangers, with their dark cloaks and shadowy ways, made him nervous. The villagers believe the Rangers practice magic that makes them invisible to ordinary people. And now fifteen year-old Will, always small for his age, has been chosen as a Ranger's apprentice. What he doesn't realize yet is that the Rangers are the protectors of the kingdom. Highly trained in the skills of battle and surveillance, they fight the battles before the battles reach the people. And as Will is about to learn, there is a large battle brewing. The exiled Morgarath, Lord of the Mountains of Rain and Night, is gathering his forces for an attack on the kingdom. This time, he will not be denied . . . .
With 448 full-color, highly-illustrated pages, Outdoor School is your indispensable tool for the outdoors.
This interactive field guide to plant and mushroom spotting includes:
– Immersive activities to get you exploring
– Write-in sections to journal about experiences
– Next-level adventures to challenge even seasoned nature lovers.
No experience is required—only curiosity and courage. Inside you'll find easy-to-follow instructions on how to:
– Grow mushrooms with cardboard
– Compare bark types
– Count tree rings
– Survey leaf patterns
– Create fern spore prints
– Press and preserve wildflowers
And so much more!
A creepy, mysterious dollhouse takes center stage in this atmospheric middle-grade mystery for fans of Doll Bones and Small Spaces.
Alice's world is falling apart. Her parents are getting a divorce, and they've cancelled their yearly cottage trip — the one thing that gets Alice through the school year. Instead, Alice and her mom are heading to some small town where Alice's mom will be a live-in nurse to a rich elderly lady.
The house is huge, imposing and spooky, and everything inside is meticulously kept and perfect — not a fun place to spend the summer. Things start to get weird when Alice finds a dollhouse in the attic that's an exact replica of the house she's living in. Then she wakes up to find a girl asleep next to her in her bed — a girl who looks a lot like one of the dolls from the dollhouse . . .
When the dollhouse starts to change when Alice isn't looking, she knows she has to solve the mystery. Who are the girls in the dollhouse? What happened to them? And what is their connection to the mean and mysterious woman who owns the house?
A suspenseful and atmospheric horror set in 1980s Oregon, perfect for fans of Stranger Things, Neil Gaiman, and Margaret Peterson Haddix, from New York Times bestselling author and the Decemberists' lead singer/songwriter, Colin Meloy.
Maybe Archie Coomes has been watching too many horror movies.
All of a sudden, the most ordinary things have taken on a sinister edge: a penny on a doormat. An odd man in a brown suit under a streetlamp. The persistent sound of an ax chopping in the middle of the night.
He keeps telling himself that this is Seaham, a sleepy seaside town where nothing ever happens. Or at least nothing did, until his dad's construction company opened up the cliff beneath the old—some say cursed—Langdon place.
Soon, though, he and his friends can't deny it: more and more of the adults in town are acting strangely. An ancient, long-buried evil has been unleashed upon the community, and it's up to the kids to stop it before it's too late. . . .
A touching, out-of-this-world graphic novel about a daughter, her father, and the aliens that may or may not be speaking to him.
Julia didn't always believe in aliens.
It was her father who convinced her otherwise. You see—Julia's dad believes he was abducted by aliens. And ever since then, he's been obsessed with the extraterrestrial beings living out there.
So when a festival commemorating the 75th anniversary of the infamous UFO crash in New Mexico rolls around, Julia turns down a dream vacation to Hawaii with her best friend, Sara, to join her dad for a weekend trip to Roswell, where he expects the aliens to make contact.
But amid the alien-themed goofiness of the festival, Julia finds she isn't sure whether her father really did get abducted. His memories of alien interference are starting to sound increasingly shaky, and with them, her faith in him. Will this weekend bring the two closer together or only drive them apart?
A heartfelt story of family, loyalty, and the lengths we go to support those we love.
A graphic novel adaptation of the hit books that inspired the Netflix film! Sherlock Holmes' brilliant, strong-willed younger sister takes center stage in this delightfully drawn graphic novel based on Nancy Springer's bestselling mystery series.
14-year-old Enola Holmes wakes on her birthday to discover that her mother has disappeared from the family's country manor, leaving only a collection of flowers and a coded message book. With Sherlock and Mycroft determined to ship her off to a boarding school, Enola escapes, displaying a cleverness that even impresses the elder Holmes. But nothing prepares her for what lies ahead…
Book One in the series includes three thrilling mysteries: The Case of the Missing Marquess, The Case of the Left-Handed Lady, and The Case of the Bizarre Bouquets. At the back of the book, readers can explore a portfolio of pages from Enola's secret notebook!