Fun Summer '23 Reading Recommendations – JK to Gr 1

Summer is almost here and it is important to encourage kids to continue to read all summer long.  This helps to prevent the "summer slide" which is when students lose about 20% of their reading gains over the summer months through lack of use.  These fun books will have your kids excited to read and it won't feel like a chore.  And don't forget to encourage them to participate in the first ever OJCS Summer Reading Challenge.  For more details click here.  Other grade lists will be published in the coming weeks.
Our OJCS students absolutely loved the first book in this series 'Creepy Carrots'.  These books are slightly spooky and very very funny!
Jasper Rabbit has a problem: he is NOT doing well in school. His spelling tests? Disasters. His math quizzes? Frightening to behold. But one day, he finds a crayon lying in the gutter. Purple. Pointy. Perfect. Somehow…it looked happy to see him. And it wants to help.
At first, Jasper is excited. Everything is going great. His spelling is fantastic. His math is stupendous. And best of all, he doesn't have to do ANY work! But then the crayon starts acting weird. It's everywhere, and it wants to do everything. And Jasper must find a way to get rid of it before it takes over his life. The only problem? The creepy crayon will not leave.
The brand-new picture book from superstar author and illustrator Julia Donaldson and Axel Scheffler is a riot of slapstick fun and silliness.
The Baddies are the meanest, nastiest ghost, witch and troll in the land. They just adore being bad, and fight over who is the worst. When a little girl moves into a nearby cottage, the Baddies can't wait to scare her out of her wits. But the little girl quickly shows them that you don't have to be big to be brave, and baddies don't always win.
Journey through a magical woodland, with poems to read and things to find
My woodland's full of animals,
of every different kind.
So shall we stay here for a while
and see what we can find?
Experience the everyday wonder of nature in this first book of poetry, exploring a magical woodland year. With poems by acclaimed writer Rachel Piercey, join Bear on his journey from spring to winter with lots of friends to meet, places to explore, and things to spot along the way.
Brave knights, fire-breathing dragons, and underwear – in this comical paperback picture book, one young knight takes on a mighty dragon to save the kingdom. With playful illustrations from the #1 New York Times bestselling artist of The Bad Seed!
Cole's wish comes true when he becomes an Assistant Knight to Sir Percival, his favorite Knight of King Arthur's Round Table. Cole learns how to ride a horse, swing a sword, cheer for Sir Percival when he goes to battle, and bandage his boo-boos when the battle is over. Cole loves practicing every skill a Knight-in-Training must master and he is determined to be granted knighthood.
Sir Percival is a great knight in every way, except for one thing: He is terrified that an Underwear Dragon will come and destroy the kingdom. But when the unthinkable happens, Cole is the only knight left standing (and just an assistant knight at that!) Cole must use all of his newly acquired skills to battle the fearsome dragon and avoid a catastrophe. Luckily, an unfortunate underwear mishap changes everything and Cole triumphs in this hilarious and triumphant tale! Kids of all ages will recognize themselves in our pint-sized hero.
From the creator of the New York Times bestseller Women in Science, comes a nonfiction picture book series ready to grow young scientists by nurturing their curiosity about the natural world–starting with what's inside a flower.
Budding backyard scientists can start exploring their world with this stunning introduction to these flowery show-stoppers–from seeds to roots to blooms. Learning how flowers grow gives kids beautiful building blocks of science and inquiry.
In the launch of a new nonfiction picture book series, Rachel Ignotofsky's distinctive art style and engaging, informative text clearly answers any questions a child (or adult) could have about flowers.
Priya plans a henna-night party that is out-of-this-world in the second installment of this full-color early chapter book series!
This series is part of Scholastic's early chapter book line, Branches, aimed at newly independent readers. With easy-to-read text, high-interest content, fast-paced plots, and illustrations on every page, these books will boost reading confidence and stamina. Branches books help readers grow!
Priya's party-planning business is hired to put together a henna-night party for teenagers! Priya gets more and more nervous as she struggles to find a theme for the party. What do TEENAGERS like?! All she knows for sure is that this party will help save endangered pangolins! So can Priya create a perfect henna-night party or will it be a flop?
With speech bubbles, easy-to-read text, and vibrant artwork on every page, this series is perfect for newly independent readers!
From a bestselling illustrator, this utterly unique comic-style book for kids 4 to 8 explores super-small creatures with astounding abilities.
Did you know that some of the smallest creatures on Earth have real-life superpowers?
The minute oribatid mite can lift more than 1,000 times its own weight. A tiny type of salamander (called an axolotl) can regrow body parts. And the almost microscopic tardigrade? It can survive practically anywhere, even in outer space! Acclaimed author Tiffany Stone combines comic panels and poems to share incredible facts about our world's miniature marvels, while illustrator Ashley Spires' zany cartoon-style illustrations make these itty-bitty superheroes (and supervillains) pop from the page.  From glow-in-the-dark sharks to immortal jellyfish and tiny cats with lethal aim, Super Small shows readers that just because you are small, it doesn't mean you aren't super—and sometimes being small can be super in and of itself.
From the bestselling Itty-Bitty Kitty-Corn creators, Shannon Hale and LeUyen Pham, comes another heartwarming and hilarious Kitty and Unicorn story about feeling like a "third wheel"—and the enduring magic of true friendship
Kitty has a grand idea.
"Let's throw a kitty-corn party!"
But when newcomer Puppy messes up Kitty's perfectly laid plans and steals Unicorn's attention and affection, Kitty is NOT pleased. When jealousy takes hold, can Unicorn help Kitty see that nothing will ever threaten a friendship as strong as theirs?
The magical, bestselling team of Shannon Hale and LeUyen Pham reunite for another heart-bursting story featuring an utterly adorable kitty-corn pair—plus Puppy, too! ARF!—reassuring readers that true friends never run out of love for each other.
NEW YORK TIMES BESTSELLER • WINNER OF THE 2023 CALDECOTT MEDAL • This glowing and playful picture book features an overheated—and overwhelmed—pup who finds his calm with some sea, sand, and fresh air. Destined to become a classic!
This hot dog has had enough of summer in the city! Enough of sizzling sidewalks, enough of wailing sirens, enough of people's feet right in his face. When he plops down in the middle of a crosswalk, his owner endeavors to get him the breath of fresh air he needs. She hails a taxi, hops a train, and ferries out to the beach.  Here, a pup can run!
This heartwarming and affirming Level 1 Ready-to-Read Graphics book celebrates the beauty of true friendship!
Worm and Caterpillar are friends—best friends. Worm loves how they are just alike, but Caterpillar has a feeling there is a big change coming. Then Caterpillar disappears for a while and comes back as Butterfly. Will Butterfly and Worm still be friends?
Ready-to-Read Graphics books give readers the perfect introduction to the graphic novel format with easy-to-follow panels, speech bubbles with accessible vocabulary, and sequential storytelling that is spot-on for beginning readers. There's even a how-to guide for reading graphic novels at the beginning of each book.
This little island is home to a large number of HORRIBLE grown-ups who like nothing more than making children miserable. The most AWFUL one of all is Aunt Greta Greed who owns the whole island.
Something needs to be done about them. But who could be brave enough?
Meet Ned – an extraordinary boy with a special power.SLIMEPOWER!
David Walliams was most recently Children's #1 bestseller withThe World's Worst Pets(TCM chart: 30 April 2022)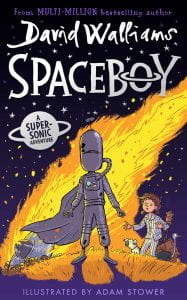 Go back to the Space Race with No.1 bestselling author David Walliams for a breathless cinematic adventure full of mystery, action, laughs and surprises – and a secret that could change the course of history…
America. The 1960s.
Stuck on a remote farm with her awful aunt, twelve-year-old orphan Ruth spends every night gazing at the stars, dreaming of adventure.
One night she spots a flying saucer blazing across the sky… before crash-landing in a field. When the spaceship opens and reveals a mysterious alien, all Ruth's dreams come true.
But does this visitor from another planet have a giant secret?
A full-colour illustrated guide to Canada's endemic species for young readers, from the award-winning author of Snooze-O-Rama: The Strange Ways that Animals Sleep.
Canada is home to over 308 endemic species of plants and animals — meaning they're found nowhere else on Earth. In Canada Wild, award-winning author Maria Birmingham introduces young readers to twelve uniquely Canadian animals — many of which are threatened or endangered. Like the Sable Island sweat bee, which lives on a single sandbar three hundred kilometres off the coast of Nova Scotia; the Kermode bear, the rare white black bear also known as the "Spirit Bear", which calls the coastal rainforests of northwestern BC home; and the Peary caribou, which can be found clomping through the Arctic tundra of the Northwest Territories and Nunavut.
Profiles of each animal showcase their habitat, diet, and status, while sidebars highlight fascinating facts about each animal, and a How's It Doing section explains where it falls on the endangerment spectrum. Informative backmatter gives young readers practical advice on conservation and combating climate change, while colour illustrations throughout — including a map of Canada, showing the animals' habitats — offer whimsical yet scientifically accurate depictions.
In this first of a charming series about a little mouse and her forest friends, Sophie Mouse must convince her classmates—and herself—that a new student is nothing to fear. Even if he is a snake! Readers will delight in The Adventures of Sophie Mouse!
In the first book of The Adventures of Sophie Mouse, springtime has arrived at Silverlake Forest! The animals are coming out of their homes, buds are blooming on the trees, and the air smells of honeysuckles and tree bark. Sophie Mouse can't wait to go back to school after the long winter break.
Even better, there's a new student in class—Sophie loves meeting new animals! But the class gasps when Owen enters: he's a snake! No one is brave enough to sit near him, or play with Owen at recess, or even talk to him. Can Sophie help her friends understand that Owen's not scary after all?
With easy-to-read language and illustrations on almost every page, the Adventures of Sophie Mouse chapter books are perfect for beginning readers.