There is a constant stream of misinformation and disinformation out there about a lot of world news and this is especially true about the Coronavirus.  Misinformation is false or inaccurate information that is often posted deliberately to deceive.  Disinformation is false information put out through certain politicians or governments to deliberately deceive.  Unfortunately, both misinformation and disinformation are frequently accepted as truth and widely shared by people who have believed what they've read without looking further afield for confirmation of the information.  As the false information spreads, it causes a lot of very confused ideas and can even wrongly influence public opinion.  It is in itself very much like a virus that spreads and infects the mind.
By becoming a fact-checker you can help stop the spread of the disease of misinformation!  The first step to becoming a fact-checker is to use your head!  Critical thinking is an essential skill of the fact-checker.  If something doesn't sound right to you, it very often isn't.  That feeling that something you've read is off should be the first indicator that you need to research further.  Researching outside of the suspected piece of information is called 'Lateral Reading'.
To read laterally, the first thing you can do is use Google or another trusted search engine to search for information about your source or the author of the information.  Searching about your source can often reveal within seconds if the source is trustworthy or not.  But when it comes to social media, often the person responsible for posting is just a regular person and there won't be information available about that person online.  So the second way you can read laterally is to search for more articles about the information you suspect to be false.  So when someone told me that Justin Bieber was so dumb he didn't know how to eat a burrito properly and was photographed eating it sideways, I thought, hmmmm, that doesn't sound right to me.  I typed Justin Bieber Burrito into the Google search bar, and the first article was about how the photo was a hoax.
Another example of this is that I received an email suggesting that I stay away from spicy food to avoid the Coronavirus.  I immediately thought that sounded wrong and did a quick Google search Coronavirus Spicy Food.  The first article was about how that information was completely false.
So now is your opportunity to try lateral reading.  Here are three social media posts that are either misinformation or are real information.
Step 1: Look at all of these social media posts.  Which ones immediately seem off to you and why?  Which one do you immediately trust and why?
Step 2: Do some lateral reading.  How long did it take you to determine how true or false this information was?
Step 3: Answer step 1 and 2 questions as a brief comment on this blog post page.
Step 4: Teach your parents and grandparents how to do this too!  That way we can all fight the virus of misinformation!
Post #1 – From the account of Facebook user Michael Conniff
Post #2 from the Twitter verified (blue checkmark) World Health Organization account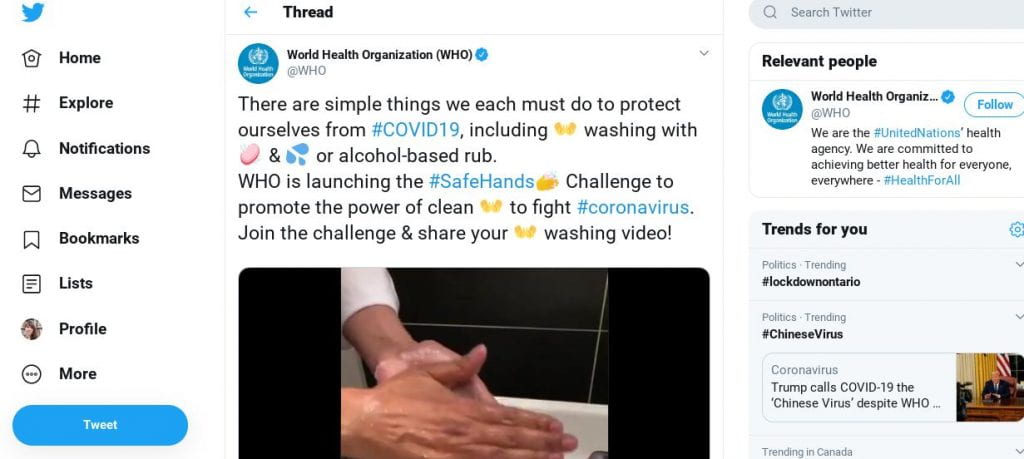 Post #3 from Twitter, user Allison Pearson