What is a Digital Footprint?
Today students were introduced to the concept of a Digital Footprint.  We used the example of tracks left by animals and how we can use our own deductive capabilities to infer quite a lot about an animal based on its tracks.
The same is true for us when we go online.  The sites we visit, the comments we post, the videos we upload, the games we play, all of those things create a digital footprint that can tell people about us and will exist online for a very long time.  We tied this in to the concept of responsibilities and discussed what our responsibilities are to ourselves and to others online.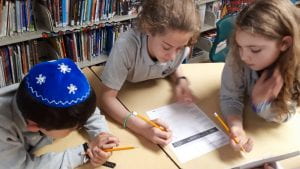 Our grade 3 and 4 students came up with some of the following ideas;
Our students are getting the foundation they need to navigate the sometimes scary world of the internet in a safe and responsible way.