My Wonderful Experience with Student-Led Conferences
(This article was written a few years ago and is being re-posted here to share as a part of a twitter chat #2ndchat on Wednesday November 13th at 8 pm.)
What a Grade 1 Student-Led Conference Might Look Like
My daughter's school holds student-led conferences once a year for all grades.  Last night, my husband and I attended my daughter's conference and it was such a great experience I wanted to share about it with teachers who may be in need of some inspiration.  
Parents signed up for a 30 minute time slot, and in that time slot, five children consecutively got to have their conference at different tables with their own parents.  My daughter grabbed her portfolio and chose a table for us to sit down at.                                                                           
This is the portfolio she made for her best work.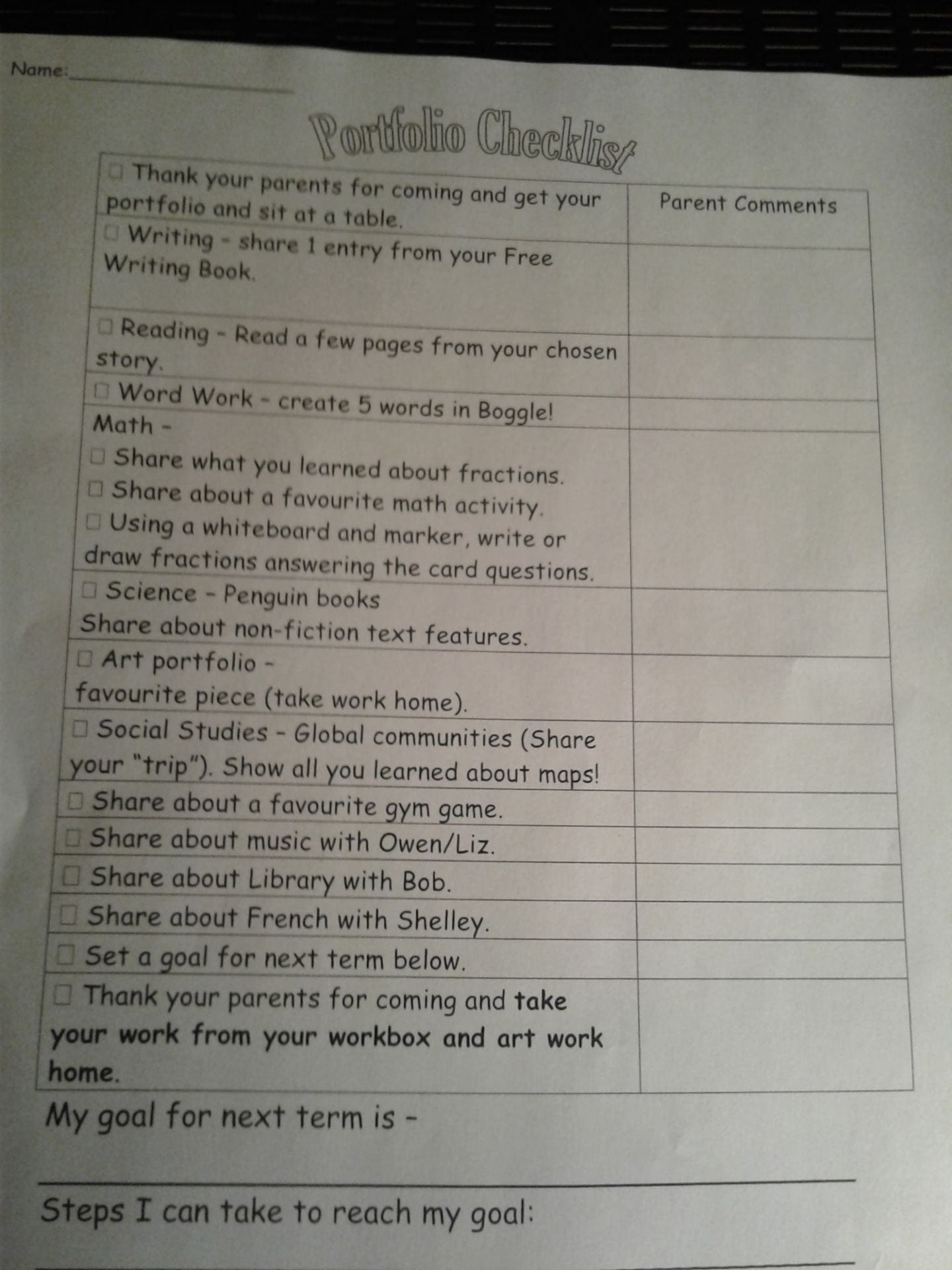 Each student has a checklist to work through of their school subjects and the work that they have chosen to share with their parents.
My daughter read us passages from her favourite book, spelled words using a "Boggle" game, demonstrated an exercise with fractions, and showed us her best art piece.
She also presented us with a research project she did on penguins which really impressed us!
She was very proud of her work and moved on to telling us about her favourite activities in subjects where she couldn't necessarily show us her work… her favourite game in gym (Vegetable Soup), her favourite song in music (Something Just Like This) her favourite activity in French (none apparently.)
I had an opportunity to ask her teacher about her take on these conferences. She said she had never done them before but really liked them. They were so easy to organize… the kids do all the work!
Setting Goals
Eleanor was able to set a goal at the end of our conference and think about what steps she would need to take to get there.  That was great because she got to choose an area she felt she needed improvement and her teacher then read through the goal with her and let her know it was good one to work on.  
The last word…
Overall it was such a great experience to be a parent and have your child share what they do all day because the typical response when I ask her is always the classic response; "nothing."  She is certainly doing a lot more than nothing and it's great to see it for myself. We were floored at some of the things she had learned. We had no idea she could do some of this stuff.  
When we were walking out I said "Mom and Dad are so proud of you Eleanor."  
"Yeah," she said, "you should be."