Fun Summer '23 Reading Recommendations for Middle Schoolers
Summer is almost here and it is important to encourage kids to continue to read all summer long.  This helps to prevent the "summer slide" which is when students lose about 20% of their reading gains over the summer months through lack of use.  These fun books will have your kids excited to read and it won't feel like a chore.  And don't forget to encourage them to participate in the first ever OJCS Summer Reading Challenge.  For more details about that click here.
After inadvertently starting rumors of a haunted cemetery, a teen befriends a ghost in this brand-new young adult novel exploring grief and belonging by the critically acclaimed and bestselling author of The Marrow Thieves series.
Winifred has lived in the apartment above the cemetery office with her father, who works in the crematorium all her life, close to her mother's grave. With her sixteenth birthday only days away, Winifred has settled into a lazy summer schedule, lugging her obese Chihuahua around the grounds in a squeaky red wagon to visit the neglected gravesides and nursing a serious crush on her best friend, Jack.
Her habit of wandering the graveyard at all hours has started a rumor that Winterson Cemetery might be haunted. It's welcome news since the crematorium is on the verge of closure and her father's job being outsourced. Now that the ghost tours have started, Winifred just might be able to save her father's job and the only home she's ever known, not to mention being able to stay close to where her mother is buried. All she has to do is get help from her con-artist cousin to keep up the rouse and somehow manage to stop her father from believing his wife has returned from the grave. But when Phil, an actual ghost of a teen girl who lived and died in the ravine next to the cemetery, starts showing up, Winifred begins to question everything she believes about life, love and death. Especially love.
Based on the young lives of Grammy-nominated indie-pop twin-sister duo Tegan and Sara, who have sold well over a million records, with artwork from Eisner Award-winner Tillie Walden, this opening book of a middle-grade graphic novel duology explores growing up, coming out, and finding yourself through music and sisterhood.A prequel of sorts to their bestselling adult memoir High School, now an 8-episode Freevee television series!

When growing up gets messy, find someone to hold on to.
Before the indie-pop duo Tegan and Sara took the world by storm, Tegan and Sara Quin were identical twins trying to find their place in a new home and new school. Tegan and Sara: Junior High tells their story. From first crushes to the perils of puberty, surviving junior high is something the sisters plan to face side by side, just like they've always faced things. But growing up also means growing apart, as Tegan and Sara make different friends and take separate paths to understanding their queerness. For the first time ever, they ask who one sister is without the other.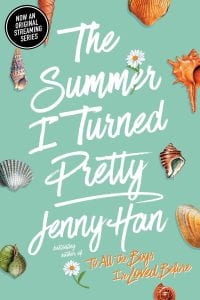 Set in the present day, this inspiring, lightly fictionalized autobiography offers a glimpse at Tegan and Sara before they became icons, exploring their shifting sisterhood, their own experiences coming out, and the first steps of their musical journey.
Belly measures her life in summers. Everything good, everything magical happens between the months of June and August. Winters are simply a time to count the weeks until the next summer, a place away from the beach house, away from Susannah, and most importantly, away from Jeremiah and Conrad. They are the boys that Belly has known since her very first summer—they have been her brother figures, her crushes, and everything in between. But one summer, one wonderful and terrible summer, the more everything changes, the more it all ends up just the way it should have been all along.
An Indigenous teen girl is caught between two worlds, both real and virtual, in the YA fantasy debut from bestselling Indigenous author Wab Kinew. Perfect for fans of Ready Player One and the Otherworld series.
In the real world, Bugz is a shy and self-conscious Indigenous teen who faces the stresses of teenage angst and life on the Rez. But in the virtual world, her alter ego is not just confident but dominant in a massively multiplayer video game universe.
Feng is a teen boy who has been sent from China to live with his aunt, a doctor on the Rez, after his online activity suggests he may be developing extremist sympathies. Meeting each other in real life, as well as in the virtual world, Bugz and Feng immediately relate to each other as outsiders and as avid gamers. And as their connection is strengthened through their virtual adventures, they find that they have much in common in the real world, too: both must decide what to do in the face of temptations and pitfalls, and both must grapple with the impacts of family challenges and community trauma.
But betrayal threatens everything Bugz has built in the virtual world, as well as her relationships in the real world, and it will take all her newfound strength to restore her friendship with Feng and reconcile the parallel aspects of her life: the traditional and the mainstream, the east and the west, the real and the virtual.
High school star athlete Colin Kaepernick is at a crossroads in life. Heavily scouted by colleges and MLB as a baseball pitcher, he has a bright future ahead of him as a highly touted prospect. Everyone from his parents to his teachers and coaches are in agreement on his future. Colin feels differently.
Colin isn't excited about baseball. In the words of five-time all-star MLB player Adam Jones, "Baseball is a white man's game." Colin looks up to athletes like Allen Iverson: talented, hyper-competitive, unapologetically Black, and dominating their sports while staying true to themselves. College football looks a lot more fun than sleeping on hotel room floors in the minor leagues of baseball. But Colin doesn't have a single offer to play football. Yet.
This touching graphic novel explores the story of how a young change-maker learned to find himself and never compromise. How the right decision is very rarely the easy one, but taking the road less traveled can make all the difference in the world.
Faith Hicks' Ride On is the perfect book for horse lovers, but it is also so much more. She has also captured the middle grade angst and the search to find your special group of friends as interests change over time. Victoria, like Jamieson's Astrid in Roller Girl, has lost her best friend. Will she find a new community of friends? This is perfect for Raina Telegemeir readers.
A twisty, spellbinding adventure about a girl and her dog who want to save the world, Danger and Other Unknown Risks is the highly anticipated YA graphic novel debut from Eisner Award-winning and New York Times bestselling creators Ryan North and Erica Henderson.
I'm gonna tell you a story, and I'm gonna ask that you let me finish before you say anything.
Here's the deal—on midnight of January 1st, 2000, the world ended. But it wasn't technology that killed it: It was magic. Now, years later, the Earth has transformed. Magic works (sort of). People are happy (sort of). But this new world isn't stable, and unless Marguerite de Pruitt and her canine pal, Daisy, do something about it, it'll tilt into deadly chaos. Good thing they've been training their whole lives for this and are destined to succeed. Or so they think.
Ryan North and Erica Henderson, the bestselling masterminds behind Unbeatable Squirrel Girl, serve up a graphic novel that is equally laugh-out-loud adventure and emotional gut punch. A story about the search for truth, chosen family, and rebirth, the journey of Marguerite and Daisy seeks to ask one vital question: How far are you willing to go to save the world?
This dazzling sapphic fantasy inspired by Greek mythology will captivate fans of Circe and The Song of Achilles.
Each spring, Ithaca condemns twelve maidens to the noose. This is the price vengeful Poseidon demands for the lives of Queen Penelope's twelve maids, hanged and cast into the depths centuries ago.
But when that fate comes for Leto, death is not what she thought it would be. Instead, she wakes on a mysterious island and meets a girl with green eyes and the power to command the sea. A girl named Melantho, who says one more death can stop a thousand.
The prince of Ithaca must die—or the tides of fate will drown them all.
Sarah Underwood weaves an epic tapestry of lies, love, and tragedy, perfect for fans of Madeline Miller, Alexandra Bracken, and Renée Ahdieh.
ONCE UPON A BROKEN HEART marks the launch of a new series from Stephanie Garber about love, curses, and the lengths that people will go to for happily ever after
For as long as she can remember, Evangeline Fox has believed in true love and happy endings . . . until she learns that the love of her life will marry another.
Desperate to stop the wedding and to heal her wounded heart, Evangeline strikes a deal with the charismatic, but wicked, Prince of Hearts. In exchange for his help, he asks for three kisses, to be given at the time and place of his choosing.
But after Evangeline's first promised kiss, she learns that bargaining with an immortal is a dangerous game — and that the Prince of Hearts wants far more from her than she'd pledged. He has plans for Evangeline, plans that will either end in the greatest happily ever after, or the most exquisite tragedy.
Governor General's award-winning author Teresa Toten's story about one girl's transformative eight-day road-trip to retrieve her mother's body.
How do you face a heartbreaking past?
One day at a time.
Or as Aggie says, one crisis at a time.
In Teresa Toten's compelling new novel Eight Days, Samantha finds out that the mother she thought had died years ago has actually just passed away. Added to this charged secret is her recovering alcoholic grandfather's strange behaviour and sudden insistence that he take Sami back to Chicago to retrieve her mother's body.
Luckily, Sami's beloved neighbour and surrogate mother figure, Aggie, insists on coming on the road trip, bringing along her quirky sense of humour and fantastic wig collection.
The eight-day journey takes us from Toronto to Chicago and back again, as Sami, an American living with her grandfather in a Muslim-dominated apartment complex in Toronto, struggles to find out who she is and where she belongs.
Infused with warmth and love, even as family struggles and secrets are torn open, Eight Days is ultimately about forgiveness and strength in community. It is truly a novel for our times.
Ren Monroe has spent four years proving she's one of the best wizards in her generation. But top marks at Balmerick University will mean nothing if she fails to get recruited into one of the major houses. Enter Theo Brood. If being rich were a sin, he'd already be halfway to hell. After a failed and disastrous party trick, fate has the two of them crossing paths at the public waxway portal the day before holidays—Theo's punishment is to travel home with the scholarship kids. Which doesn't sit well with any of them.
A fight breaks out. In the chaos, the portal spell malfunctions. All six students are snatched from the safety of the school's campus and set down in the middle of nowhere. And one of them is dead on arrival.
If anyone can get them through the punishing wilderness with limited magical reserves it's Ren. She's been in survival mode her entire life. But no magic could prepare her for the tangled secrets the rest of the group is harboring, or for what's following them through the dark woods…
Every seven years, the Agon begins. As punishment for a past rebellion, nine Greek gods are forced to walk the earth as mortals. They are hunted by the descendants of ancient bloodlines, all eager to kill a god and seize their divine power and immortality.
Long ago, Lore Perseous fled that brutal world, turning her back on the hunt's promises of eternal glory after her family was murdered by a rival line. For years she's pushed away any thought of revenge against the man—now a god—responsible for their deaths.
Yet as the next hunt dawns over New York City, two participants seek her out: Castor, a childhood friend Lore believed to be dead, and Athena, one of the last of the original gods, now gravely wounded.
The goddess offers an alliance against their mutual enemy and a way to leave the Agon behind forever. But Lore's decision to rejoin the hunt, binding her fate to Athena's, will come at a deadly cost—and it may not be enough to stop the rise of a new god with the power to bring humanity to its knees.
Bradley Graeme is pretty much perfect. He's a star football player, manages his OCD well (enough), and comes out on top in all his classes . . . except the ones he shares with his ex-best friend, Celine.
Celine Bangura is conspiracy-theory-obsessed. Social media followers eat up her takes on everything from UFOs to holiday overconsumption—yet, she's still not cool enough for the popular kids' table. Which is why Brad abandoned her for the in-crowd years ago. (At least, that's how Celine sees it.)
These days, there's nothing between them other than petty insults and academic rivalry. So when Celine signs up for a survival course in the woods, she's surprised to find Brad right beside her.
Forced to work as a team for the chance to win a grand prize, these two teens must trudge through not just mud and dirt but their messy past. And as this adventure brings them closer together, they begin to remember the good bits of their history. But has too much time passed . . . or just enough to spark a whole new kind of relationship?
Ellingham Academy is a famous private school in Vermont for the brightest thinkers, inventors, and artists. It was founded by Albert Ellingham, an early twentieth century tycoon, who wanted to make a wonderful place full of riddles, twisting pathways, and gardens. "A place," he said, "where learning is a game."
Shortly after the school opened, his wife and daughter were kidnapped. The only real clue was a mocking riddle listing methods of murder, signed with the frightening pseudonym "Truly, Devious." It became one of the great unsolved crimes of American history.
True-crime aficionado Stevie Bell is set to begin her first year at Ellingham Academy, and she has an ambitious plan: She will solve this cold case. That is, she will solve the case when she gets a grip on her demanding new school life and her housemates: the inventor, the novelist, the actor, the artist, and the jokester.
But something strange is happening. Truly Devious makes a surprise return, and death revisits Ellingham Academy. The past has crawled out of its grave. Someone has gotten away with murder.
The two interwoven mysteries of this first book in the Truly Devious series dovetail brilliantly, and Stevie Bell will continue her relentless quest for the murderers in books two and three.
Discover the origin story of the Darkling in this beautifully illustrated, first-ever Grishaverse graphic novel.
Before he became the Darkling, Eryk was just a lonely boy burdened by an extraordinary power. The dangerous truth is that Eryk is not just a Grisha—he is the deadliest and rarest of his kind.
With stunning illustrations and raw emotion, peer into the shadows of the Darkling's past and discover why he has always been feared by those who wish to destroy him and hunted into hiding his true abilities.
But even in this villain origin story, wicked secrets are destined to reveal themselves . . .
Eoin Colfer meets Rick Riordan—with a little Margaret Peterson Haddix sprinkled on top—in this hilarious new sci-fi series from award-winning authors Neal Shusterman and Eric Elfman.
When fourteen-year-old Noah falls from the trees on his classmate Sahara, he doesn't understand how, or why, he would have been up there. It's just one more in a string of strange things happening to Noah lately.
Like when he keels over and every muscle in his body freezes when confronted by bullies. And when he vanishes into the background at a moment he doesn't want to be noticed. And when he unexpectedly blasts Sahara with a bird shriek while flapping his arms uncontrollably in the middle of a school dance. What does it all mean? And why do there suddenly seem to be so many mysterious people trying to kill him?
Noah's friend Ogden has an idea…but like all of Ogden's ideas, it's out there. Way out there…
An equal parts heart-pounding and heartfelt middle-grade mystery about facing––and accepting––your fears, perfect for fans of Stranger Things and The Parker Inheritance
Bones Malone feels like he can't do anything right in his new small town: He almost punched the son of the woman who babysits him and his brothers, he's one of the only Black kids in Langille, and now his baseball team (the one place where he really feels like he shines) just lost their first game. To make matters worse, things in town are getting weird. His mom isn't acting like herself at all—she's totally spaced out, almost like a zombie. And then he and his brothers have the same dream—one where they're running from some of their deepest fears, like a bear and an eerie cracked mirror that Bones would rather soon forget.
Kyle Specks feels like he can never say the right thing at the right time. He thinks he might be neurodivergent, but he hasn't gotten an official diagnosis yet. His parents worry that the world might be too hard for him and try to protect him, but Kyle knows they can't do that forever. Even though he's scared, he can't just stand by and do nothing while things in this town get stranger and stranger, especially not after he and Bones find a mysterious scientist's journal that might hold answers about what's going on.
But when faced with seemingly impossible situations, a shady corporation, and their own worst nightmares, will Kyle and Bones be brave enough to admit they're scared? Or will the fear totally consume and control them?
The Blood Moon rises. The Blood Veil falls. The Tournament begins.
Every generation, at the coming of the Blood Moon, seven families in the remote city of Ilvernath each name a champion to compete in a tournament to the death.
The prize? Exclusive control over a secret wellspring of high magick, the most powerful resource in the world—one thought long depleted.
But this year a scandalous tell-all book has exposed the tournament and thrust the seven new champions into the worldwide spotlight. The book also granted them valuable information previous champions never had—insight into the other families' strategies, secrets, and weaknesses. And most important, it gave them a choice: accept their fate or rewrite their legacy.
Either way, this is a story that must be penned in blood.
Spensa's world has been under attack for decades. Now pilots are the heroes of what's left of the human race, and becoming one has always been Spensa's dream. Since she was a little girl, she has imagined soaring skyward and proving her bravery. But her fate is intertwined with her father's–a pilot himself who was killed years ago when he abruptly deserted his team, leaving Spensa's chances of attending flight school at slim to none.
No one will let Spensa forget what her father did, yet fate works in mysterious ways. Flight school might be a long shot, but she is determined to fly. And an accidental discovery in a long-forgotten cavern might just provide her with a way to claim the stars.
It once seemed so easy to Prince Rhen, the heir to Emberfall. Cursed by a powerful enchantress to repeat the autumn of his eighteenth year over and over, he knew he could be saved if a girl fell for him. But that was before he learned that at the end of each autumn, he would turn into a vicious beast hell-bent on destruction. That was before he destroyed his castle, his family, and every last shred of hope.
Nothing has ever been easy for Harper. With her father long gone, her mother dying, and her brother barely holding their family together while constantly underestimating her because of her cerebral palsy, she learned to be tough enough to survive. But when she tries to save someone else on the streets of Washington, DC, she's instead somehow sucked into Rhen's cursed world.
Break the curse, save the kingdom.
A prince? A monster? A curse? Harper doesn't know where she is or what to believe. But as she spends time with Rhen in this enchanted land, she begins to understand what's at stake. And as Rhen realizes Harper is not just another girl to charm, his hope comes flooding back. But powerful forces are standing against Emberfall . . . and it will take more than a broken curse to save Harper, Rhen, and his people from utter ruin.
Jay is living his best life at Karloff Country, one of the world's most famous resorts. He's got his family, his crew, and an incredible after-school job at the property's main theme park. Life isn't so great for the rest of the world, but when people come here to vacation, it's to get away from all that.
As things outside get worse, trouble starts seeping into Karloff. First, Jay's friend Connie and her family disappear in the middle of the night and no one will talk about it. Then the richest and most powerful families start arriving, only… they aren't leaving. Unknown to the employees, the resort has been selling shares in an end-of-the-world oasis. The best of the best at the end of days. And in order to deliver the top-notch customer service the wealthy clientele paid for, the employees will be at their total beck and call.
Whether they like it or not.
Yet Karloff Country didn't count on Jay and his crew–and just how far they'll go to find out the truth and save themselves. But what's more dangerous: the monster you know in your home or the unknown nightmare outside the walls?
Perfect for readers of Neil Gaiman and Philip Pullman, a sweeping historical fantasy that follows two teens on a journey through the Far Country, a Jewish land of spirits and demons.
For the Jews of Eastern Europe, demons are everywhere: dancing on the rooftops in the darkness of midnight, congregating in the trees, harrowing the dead, even reaching out to try and steal away the living.
But the demons have a land of their own: a Far Country peopled with the souls of the transient dead, governed by demonic dukes, barons, and earls. When the Angel of Death comes strolling through the little shtetl of Tupik one night, two young people will be sent spinning off on a journey through the Far Country. There they will make pacts with ancient demons, declare war on Death himself, and maybe– just maybe–find a way to make it back alive.
Drawing inspiration from the Jewish folk tradition, The Way Back is a dark adventure sure to captivate readers of Neil Gaiman's The Graveyard Book and Philip Pullman's The Book of Dust.